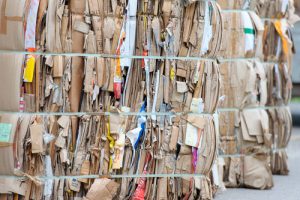 For the second year in a row, U.S. paper recovery marked a record high in 2016. Use of recycled paper is also marking a new milestone in Canada.
U.S. recovery hit 67.2 percent last year, an increase over 2015's 66.8 percent, according to figures from the U.S. Forest and Paper Association (AF&PA). The figures represent the tonnage of paper recovered divided by the supply generated during the year.
The rate was a new high, but the actual tonnage recycled – 52.2 million tons – is still below the peak figures from 2006 and 2007. New paper supplied to the market totaled more than 100 million tons in 2006 but had fallen to 77.7 million tons by 2016.
Meanwhile, the amount of paper landfilled hit a new low in 2016, down to 20.9 million tons. Paper landfilled has steadily decreased by more than half since 2003.
"The voluntary, market-driven recovery system, the millions of Americans who recycle every day, and industry efforts to inform consumers about the importance of paper recycling continue to enable a high U.S. paper recovery rate," Donna Harman, AF&PA president and CEO, stated in a news release.
The Great White North
Use of recycled paper is also marking a new milestone in Canada.
A survey released last week found Canadian mills producing paper and paperboard for packaging products are using an average of 77 percent recycled content in domestic shipments.
That's a 1 percent increase over 2014, when the survey by the Paper & Paperboard Packaging Environmental Council (PPEC) was last conducted. It's 30 percentage points higher than the recycled content average in 1990.
The figure represents an average taking into account three grades of packaging, according to John Mullinder, PPEC executive director. In a press release, he added that most Canadian boxes and cartons are made of 100 percent recycled content.