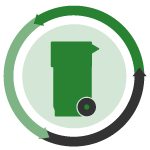 A contamination-reduction campaign draws an angry response from some residents, and New York City approves a ban on polystyrene foam food-service items (again).
Contamination battle: Waste Management is working to combat high levels of contamination in one California community, but city council members are hearing angry pushback from their constituents. The Lodi News-Sentinel reports that Waste Management will issue fines and take away recycling carts on the third instance of serious contamination (they've seen a stroller, charcoal and oil put in carts), part of an outreach effort to combat contamination of 50 percent or higher.
Stubborn needle: Despite communicating with residents and providing regular curbside service, the town of Conception Bay South can't seem to boost its recycling rate above 6 percent, CBC reports. The mayor of the town, which is located in the province of Newfoundland and Labrador, wants residents to recycle more so the city government can save money.
Landfilled recyclables: Fort Smith, Ark. fired its sanitation director after it was revealed the city has been sending recyclables to landfill without informing the public, according to the Times Record newspaper. The city has begun negotiating with Marck Industries to take its residential recyclables.
Foam ban: New York City has again decided to ban polystyrene foam foodservice products, after losing a court battle over the ban in 2015. Public radio station WNYC reports the decision by the New York City Department of Sanitation to ban the material came the same day a city council hearing was held on a bill that would require EPS curbside recycling.
Defending recycling: Chicago-area recycling company Lakeshore Recycling Systems wrote a letter to the editor in USA Today in defense of the economics of recycling. The company's Alan Handley wrote that "the only things preventing a true recycling revolution are greater investment in recycling businesses and access to sustainable recycling programs."
Prominent speaker: Michigan Gov. Rick Snyder will speak on Friday at the Governor's Recycling Summit, held in conjunction with the Michigan Recycling Coalition's annual conference. Snyder will walk the exhibition hall and address attendees on his vision for moving recycling forward in the Great Lakes State.
Beyond bans: Instead of banning rarely recycled plastic items, some cities are embracing the idea of designating recyclable and compostable packaging, an expert at the Sustainable Packaging Coalition says. Charlotte Dreizen writes in Packaging Digest about how some cities are designating often-recycled plastics such as PET and HDPE as recyclable, although those listings often fail to recognize that product design and additive use can still inhibit recycling.
Waste reduction progress: Massachusetts is making progress on reducing its disposal volumes, but a bigger effort is going to be needed to hit the commonwealth's goals, according to state officials. MassLive.com reports that Environmental Protection Commissioner Martin Suuberg told lawmakers he sees several critical issues to focus on, including reducing recycling contamination, improving diversion from landfills, increasing organics processing infrastructure, raising reuse and donation rates and expanding recycling access.
First foam, then bags: The City of Coral Gables, Fla. has approved the first plastic bag ban in Florida, according to the Miami Herald. The move came after a judge upheld the city's ban on polystyrene foam food service items, ruling that state law no longer blocks local bans, despite arguments to the contrary from a retail group.