This story originally appeared in the April 2017 issue of Resource Recycling. Subscribe today for access to all print content.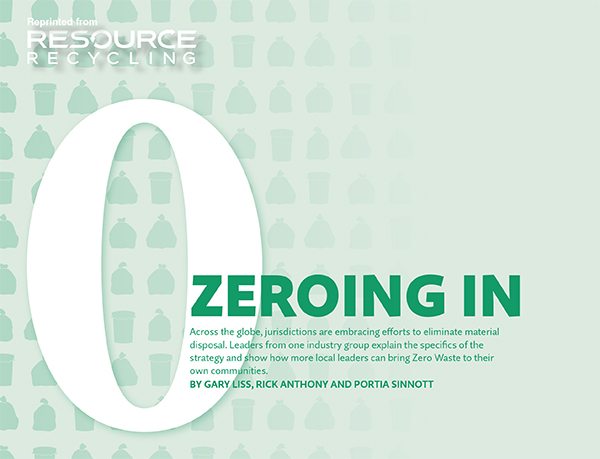 Once viewed as an idealistic dream, the concept of Zero Waste has sparked the imagination of solid waste and recycling leaders throughout the world.
To date, Zero Waste plans or resolutions have been adopted by thousands of communities around the globe, including more than 100 in the United States. These jurisdictions come in all shapes and sizes: large and small, urban, suburban, and rural. Some of the municipalities pledged their support for the strategy by signing onto the United Nation's Urban Environmental Accords, which include a Zero Waste goal.
Thousands of businesses have also adopted the goal of sending no discards to disposal – and many have already diverted over 90 percent of their materials from incinerators and landfills. In the process, these companies have saved money by eliminating wasteful practices, setting up reuse systems (like reusable shipping containers and reusable pallets), and recycling and composting where these services are available.
For communities and businesses that want to get in on the action, a variety of resources and groups can help show the way. Below are basic steps to get moving toward Zero Waste and case studies from communities that are advancing down the path.
What does Zero Waste actually entail?
The Zero Waste International Alliance (ZWIA) was formed in 2002 to create worldwide standards for the developing Zero Waste industry. ZWIA drafted the international definition of Zero Waste:
Zero Waste is a goal that is ethical, economical, efficient and visionary, to guide people in changing their lifestyles and practices to emulate sustainable natural cycles, where all discarded materials are designed to become resources for others to use.
Zero Waste means designing and managing products and processes to systematically avoid and eliminate the volume and toxicity of waste and materials, conserve and recover all resources, and not burn or bury them.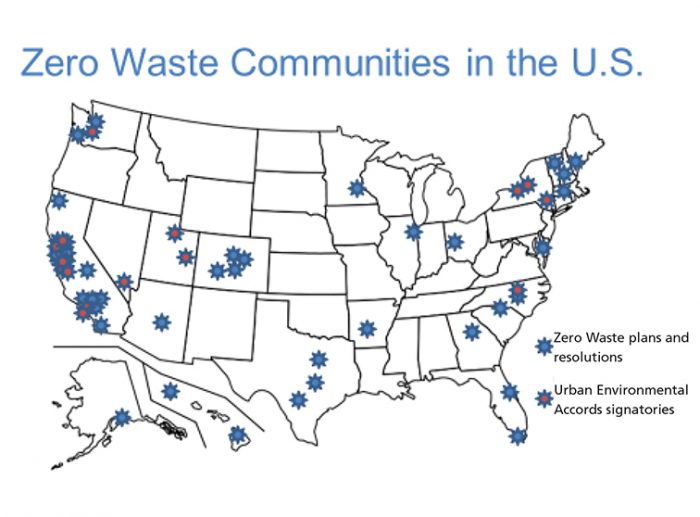 Implementing Zero Waste will eliminate all discharges to land, water or air that are a threat to planetary, human, animal or plant health.
The National Recycling Coalition adopted this international definition and encourages others to do so as well. Many communities and businesses have done that.
ZWIA also developed Zero Waste Business Principles, Global Principles for Zero Waste Communities and the Zero Waste Hierarchy of Highest and Best Use to guide businesses and communities on how to pursue Zero Waste goals. In its Zero Waste Community Recognition Program, ZWIA highlights best practices for Zero Waste communities. Those 11 best practices, listed below, can serve as a basic structure for entities looking to develop their own programs.
Adopt the international Zero Waste definition and goal.
Establish a multi-stakeholder process to develop and implement a Zero Waste plan.
Adopt a commitment to implement residential collection programs for recyclables and organics (including food scraps).
Consider all discards generated in the community (including those from institutional, commercial and industrial sectors).
Exercise control over sectors for which the community is directly responsible and influence sectors for which the community is not directly responsible.
Advocate for redesign of problem materials that are not reusable, recyclable or compostable.
Report progress annually toward Zero Waste milestones.
Implement a pay-as-you-throw rate structure or other financial incentives for generators.
Conduct comprehensive composition studies every 10 years and informal annual assessments of residual materials.
Oppose any kind of incineration (thermal systems that operate over 200 degrees Fahrenheit).
Define quantitative targets for the short term (within 10 years) and long term (within 20 years).
Planning guides and critical training
A handful of groups and resources are helping to advance Zero Waste and put the recommended best practices into action.
In 2014, the GrassRoots Recycling Network rebranded itself as Zero Waste USA to better reflect its mission: "inspiring communities to embrace and achieve Zero Waste." On its website, Zero Waste USA has many resources to assist communities to better understand Zero Waste and how to get there.
Zero Waste USA conducts trainings and presentations at conferences and workshops across North America. Its "Introduction to Zero Waste" class has been presented to over 400 individuals in the last three years. Since its inception, the Resource Recycling Conference has hosted this class annually as a pre-conference workshop and will again in 2017.
In addition, Zero Waste USA just launched the Zero Waste Community Associates Certification Program. This training includes three six-hour classes, extensive homework and an exam.
Participants in the certification initiative will learn to develop and implement Zero Waste community policies and programs. The first series of classes was hosted by San Francisco's Department of the Environment in February 2017.

Another coalition is the Zero Waste Brain Trust, which has developed a document called "Eight Steps to Becoming a Zero Waste Community" (those steps: assess, define, frame, engage, design and plan, implement, administer and re-assess).
The Zero Waste Brain Trust also developed a resource guide called "How to Become a Zero Waste Community." The Brain Trust resources can be accessed at the Zero Waste USA site.
Another useful training program is greeneducation.us, which offers a Certified Sustainable Resource Management Professional Program with 30 hours of webinar instruction that is accredited for California students by the National Recycling Coalition's National Standards Certification Board. Zero Waste USA board members and staff are instructors in this program, and several classes in the program focus on Zero Waste issues.
One other resource is the EcoCycle Solutions Hub in Boulder, Colo., which has developed a Community Zero Waste Roadmap. This step-by-step guide to creating a community plan highlights successful infrastructure, policies and programs. It's laid out as a three-phase, 10-year project to reduce waste and recover 90 percent of the discards in a community.
Communities leading the movement
Dozens of municipalities of all sizes have made serious Zero Waste commitments in recent years, and their goals and procedures can help to inform and inspire other communities looking to follow suit.
In 2002, San Francisco was the first major city in the U.S. to adopt a Zero Waste goal. One of the leading success stories in terms of policy and programming, San Francisco implemented a "fantastic three" residential curbside program that includes separate collection of commingled recyclables; compostable materials, including all food scraps, food-soiled paper and yard trimmings; and any remaining trash in three separate bins with various size and rate options.

Boulder, Colo.-based EcoCycle guides communities to Zero Waste through a three-phase process that is rolled out over 10 years.The city implemented the first and largest urban food scraps composting collection program in the U.S., covering both commercial and residential sectors. San Francisco has collected more than 1 million tons of food scraps, yard trimmings and other compostable materials and turned it into compost that is used by local farmers and wineries in Napa and Sonoma counties.
In the city's most recent Zero Waste plan, leaders established the following three goals: decrease disposal 10 percent annually; hold producers and consumers responsible for their waste; and assist with landfill agreements, refuse rates and other processes.
Another major West Coast city moving forward on Zero Waste is Los Angeles, which has in place a detailed plan to achieve a goal of 90 percent waste diversion by 2025 and 97 percent by 2030.
The city brought together more than 3,000 stakeholders over the course of roughly 250 meetings, workshops and citywide conferences. Through this extensive public outreach process, stakeholders developed a list of guiding principles to steer progress.
America's largest municipality also recently added its own heft to the conversation. In 2016, New York City adopted the OneNYC Plan, articulating a vision for a sustainable, resilient and equitable community. New York has committed to phase out reliance on landfills by 2030, and the city will also collect, sort and process organics from all residents. Furthermore, plans are in place for a major recycling program in all 850 public housing buildings and Zero Waste operations in all public schools.
New York City is working to divert at least 90 percent of generated material through a combination of waste reduction, reuse, recycling programs and wastewater treatment plants using food waste for co-generation. New York's program plans to rely far less than it does today on thermal processing systems and instead emphasize the highest and best use of discarded resources.
For examples in a slightly different environment, we can look to colleges and universities. College campuses are like small communities, and some of these institutions have taken leadership roles on Zero Waste.
The University of California, for instance, has adopted a system-wide Zero Waste goal, targeting 95 percent diversion from landfill by 2020. Major successes have already been achieved at many campuses, particularly with major events and recycling of construction and demolition debris. UC Riverside diverted 99 percent of its construction waste from two capital projects by requiring contractors to use a designated waste hauler, have appropriate bins on the construction site and meet recycling requirements.
In addition, UC Berkeley and the College and University Technical Committee of the U.S. Green Building Council are working on suggestions for how architects and designers can design for campus multi-material collection systems and how to use the Green Building Council's Zero Waste certification system to certify college facilities as Zero Waste. The College and University Recycling Council also developed a "Zero Waste Campus Toolkit."
Other U.S. municipalities that have Zero Waste community plans include Alameda, Calif.; Austin, Texas; Castro Valley, Calif.; Fort Collins, Colo.; Oceanside, Calif.; Telluride, Colo.; and the Big Island of Hawaii.
In addition, the group Zero Waste Europe has compiled a list of 360 European Zero Waste municipalities, with over 230 communities in Italy alone.
Success via stakeholders
It's clear that a variety of informative resources are helping to proliferate Zero Waste skills, and communities are showing what great programs look like on the ground.
For those interested in moving toward implementation in their own jurisdictions, the key is laying out a workable community plan – and bringing stakeholders into that process. It's important to engage residents, businesses, institutions and service providers (particularly for reuse, recycling and composting) in developing a plan that embodies the values and principles of importance to the local community. That ensures that the plan is tailored to the neighborhoods, companies and leaders that want to invest in making Zero Waste a reality.
Through engaged planning and implementation, Zero Waste is re-shaping resource management in many areas. Will your community be next?
Gary Liss and Rick Anthony are vice presidents at Zero Waste USA. They can be reached at [email protected] and [email protected]. Portia Sinnott is program director for Zero Waste USA and the leader of the Zero Waste Brain Trust. She can be reached at [email protected].