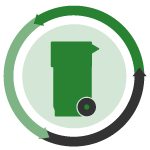 The U.S. scrap recycling industry reaches $117 billion in annual economic impact, and recycling-related legislation passes a key hurdle.
Scrap stats: The U.S. scrap recycling industry has an annual economic impact of nearly $117 billion and provides more than 534,000 jobs, according to a report commissioned by the Institute of Scrap Recycling Industries (ISRI). The study also found the scrap industry generates $4.95 billion in revenues for state and local governments and pays $8.26 billion in federal taxes each year.
Agenda combing: Findings by local government agenda monitoring company Waste Alert indicate cities and counties addressed solid waste more in the first quarter of 2017 than a year earlier. The company's analysis of 1,699 city council, county commission, borough assembly, and solid waste committee agendas and minutes showed a quarter of those meetings included decisions and discussion on recycling and solid waste management.
Partnering up: A major manufacturer of recycled paper products has made a deal with a recycled cardboard supplier to acquire recovered fiber over the next three years. According to a press release, Cascades will accept about 82,000 short tons from Tricentris, which will be the entire volume of cardboard recovered at its three processing facilities.
Fee preservation: Pennsylvania's waste disposal fee that funds recycling programs would be extended under recently introduced legislation. Senate Bill 646, which was approved by a Senate committee on April 25, would remove the 2020 sunset date and continue the $2-per-ton disposal fee.
Compost coronation: A 27-acre composting facility is nearing completion in Phoenix. KJZZ public radio reports the $16 million project, capable of diverting 55,000 tons annually from disposal, is part of the city's goal of reaching 50 percent diversion by 2020.
Multi-family methodology: Placing recycling and composting receptacles closer to apartment residents' doors increases collection substantially, new research has found. According to the University of British Columbia's UBC News, the study found increasing convenience in multi-family buildings by placing receptacles just five feet from residential units, rather than in the basement, led to a 141 percent average increase in recycling and composting weights collected.
Goal-setting: Recycling played heavily into Apple's recently released environmental responsibility report. Along with reporting on its in-office diversion rate and touting its light-weighting and recycled-content sourcing efforts for packaging, the company describes its goal of using only recycled materials in its electronics.
Bottle boost: The container redemption rate in Oregon appears to have increased since the state's deposit doubled from 5 to 10 cents per container. Oregon Public Broadcasting reports early numbers indicate a 93 percent redemption rate since the deposit doubled on April 1, up from 64 percent before the change.