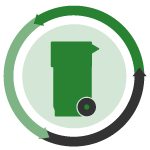 A Canadian city brings in nearly $10 million through sales of recyclables, and a community attempts to educate residents to cut down on its costly contamination problem.

Sustainable shopping: A pop-up store in New York City will sell items and teach classes aimed at promoting zero waste living. The sustainability website TreeHugger writes that the store is a project by Lauren Singer, known for her "Trash is for Tossers" blog, and Daniel Silverstein, a fashion designer who uses recycled fabric to make clothes.
Costly contract: A Louisiana city is looking for a new recycling service provider after it couldn't reach a deal to lower costs with its current hauler, Pratt Industries. According to KTAL NBC 6 News, Pratt's contract with Shreveport, La. ends in October.
Contamination rises: El Paso, Texas is paying $800,000 per year due to contamination, and the city is working to educate residents in an effort to lower the expensive problem. KFOX14 News reports the cost to dispose of contaminants has been partially offset by recently increasing commodity prices, but that the problem is still causing some doubt about the program's future.
Mainstream analysis: Many factors are responsible for rising recycling costs, and USA Today explores several of them in a lengthy article focused specifically on Waste Management's Elkridge, Md. materials recovery facility. The story focuses on the dual problem of recycling commodity prices decreasing in recent years combined with contamination on the rise.
Penciling out: Sales of recyclable commodities brought in nearly $10 million for Ottawa, Ont. last year, although the sales didn't quite offset the cost of recycling collection. CBC News reports that even though less paper was collected in 2016 than the year before, Canada's capital brought in more money from recovered paper sales due to value boosts in the fiber market.
Tax break: Louisiana provides tax breaks for companies that purchase qualified recycling equipment or service contracts, but some lawmakers want to see that come to an end. Senate Bill 48 was scheduled for a Monday afternoon floor vote by the state Senate.
Target's target: Five new sustainable packaging goals have been announced by retail giant Target. According to an announcement last week, the company plans to eliminate EPS from packaging for its own brands by 2022, add the How2Recycle label to those brand packages by 2022, and help create more demand for recycled materials.