Although changes at the White House have grabbed much attention recently, there are plenty of other developments taking place in the District of Columbia.
Take Washington D.C.'s recycling program, for instance, which is on the cusp of big changes nearly 30 years after it first started. The District is pushing to become a leader in the recycling world, and will soon accept hard-to-recycle materials currently collected curbside by a select few cities across the country.
The new initiatives have been ushered in through a recent goal-setting process and ambitious legislation that solidified those goals into legal requirements.
Bottle battle spurs recycling
The U.S. capital's materials recovery program dates back to the late 1980s when a proposed bottle deposit was defeated after a contentious battle. After the bill was voted down, proponents in the District began looking for other ways to increase diversion in the municipality.
"When the bottle bill got defeated, that's when the recycling legislation came out," said Bill Easley, recycling program officer with the District's Department of Public Works (DPW). The first law requiring recycling of certain materials was passed in 1989.
The program began as essentially a paper recycling effort and evolved to accept all the standard materials. Diversion has increased, albeit fairly slowly. In 2002, the first year of available data, the District diverted 13 percent of its solid waste. By 2004 that number had increased only marginally, but after the program went to single-stream collection in 2005, diversion rose to 17 percent during the following two years.
Using the measurement system in place since the start of the program, the District's diversion rate reached higher than 28 percent in 2015, but DPW has also begun using a different metric that takes stock of a wider range of public recycling and composting programs. By the latter metric, the District currently holds a roughly 21 percent diversion rate.
The residential recycling program has always been run by DPW. City crews service single-family homes and multi-family buildings with fewer than three units, which together make up 105,000 households. Collection is funded through the city's general fund rather than utility bills.
Commercial and large multi-family recycling is separate. Those properties contract with private haulers for their recycling collection, and under District law, commercial properties must provide recycling services.
Aiming to lead
In 2013, a non-binding "Sustainable DC" plan was crafted and introduced by Mayor Vincent Gray. It identified some ambitious goals, including reaching 80 percent diversion by 2032. The following year, local lawmakers passed the Sustainable Solid Waste Management Amendment Act of 2014, which updated the District's original recycling legislation. It also codified the goals from the non-binding plan and in some cases took them a step further.
For example, the Sustainable DC plan allowed disposal by waste-to-energy to count toward its 2032 diversion goal, but the legislation bars waste-to-energy figures. In addition, the non-binding plan targeted primarily residential recycling, but the legislation expands that to include commercial and industrial as well.
"This is the District making its commitment that we want to lead, and have a strong waste portfolio as part of our broader sustainability goals," said Annie White, manager of the office of waste diversion at DPW.
In order to get to the diversion goal, the 2014 Act revises the list of materials legally required to be recycled, as well as those that are accepted through the residential program. One of the more innovative moves will take effect in 2018, when single-use coffee cups and an array of other food-service packaging will be accepted for recycling.
Besides paper cups with polyethylene coating, the District will begin collecting paper plates and other paperboard food containers, non-bottle rigid plastics, and non-single-use products like Tupperware storage containers.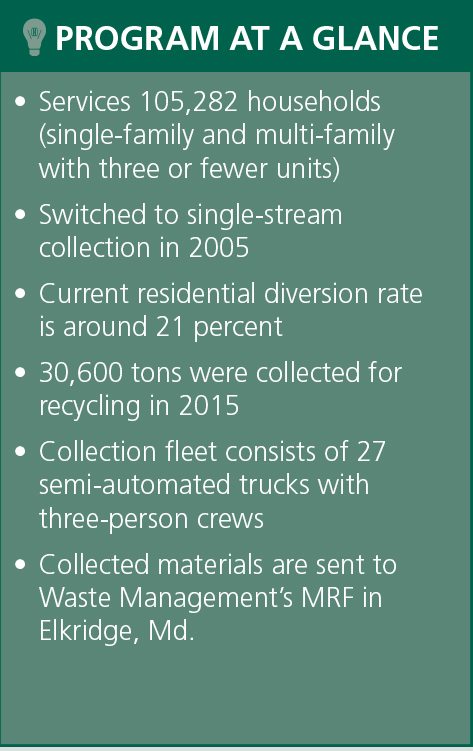 Inclusion of those products will begin next January.
"Some of these materials are accepted by less than 20 percent of communities in the U.S.," White said, adding that the District is "looking to take more of a leadership role in some of these areas."
In accepting coffee cups, D.C. will join some leading recycling municipalities such as Seattle and San Francisco. Coffee cups are often non-recyclable due to the plastic or wax coating that fortifies the paper against liquid penetration.
However, two large coffee companies, Starbucks and Pret A Manger, began collecting single-use coffee cups at their D.C. locations recently. That spurred the push for wider acceptance of food-service packaging material.
Using a survey model from The Recycling Partnership, solid waste officials queried MRFs in the area to gauge the materials they could accept, and made a plan to adjust the city's list accordingly. In the responses from MRFs, the solid waste department determined a wide range of food-service packaging was accepted by the majority of MRFs in the area.
White explained that through independent but related efforts, the District and the Foodservice Packaging Institute will work to educate MRFs and their haulers about this shift as well as to help develop end markets for the newly accepted materials.
"I am optimistic about our program," White said. "I look forward to sharing our experience and results so that other communities can learn from us."
This article originally appeared in the March 2017 issue of Resource Recycling. Subscribe today for access to all print content.