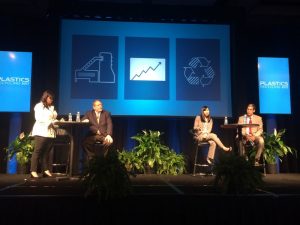 Plastics recycling stakeholders, it's time to elevate your game. That was the message delivered in a variety of different ways from industry leaders in New Orleans last week.
Throughout the series of sessions at the Plastics Recycling 2017 conference, speakers offered examples of opportunities for sector growth. But they also made it clear that capitalizing on such potential for profits will require innovation and fearlessness among plastics recycling firms.
In the conference's markets session, for example, analyst John Maddox of SBA CCI noted that while soft drink consumption is dropping in North America, more PET packaging is showing up in fast-growing beverage categories like ready-to-drink coffee and dairy drinks.
Reclaiming facilities won't be able to depend on their tried and true systems to capture these containers, however.
"A lot of the additional volume is coming in opaque bottles and with shrink-sleeve labels," Maddox said, referencing two PET container characteristics that have caused headaches for the plastics recycling industry. "These are excellent growth opportunities. But it's not going to be any easier."
Those types of challenges may seem daunting for plastics recycling executives who have weathered depressed commodity prices over the last several years and are now looking for a return to reliable revenues. Speakers, however, urged against complacency.
In the conference's opening plenary session, Avangard Innovative CEO Rick Perez noted plastics recycling needs to find a way to overcome its image problem. He said recycled material is still considered inferior to virgin product.
The solution? According to Perez, stakeholders need to better understand all the specifics of the bales and recycled resins being produced.
"Data is one of the most important steps to drive quality," Perez said, adding that Avangard is implementing a program to photograph every bale of material it handles. "We want to get to the highest quality, and the only way to do that is to know the details."
Policy and PCR
Innovation and fresh thinking could also pay dividends in areas outside the realm of materials processing.
In a session exploring different tools to drive plastics recycling going forward, Nina Bellucci Butler of More Recycling Associates said the industry and policymakers need to find ways to drive demand of post-consumer resin (PCR).
"Through sustainable materials management policy that specifically rewards the use of PCR, I think we can move forward on market development," Butler said.
As the search for workable solutions continues, North American leaders may be wise to look to emerging markets, specifically Latin America.
The conference this year saw a notable uptick in attendees and exhibitors from Mexico and other countries in Central and South America.
Jaime Camara, CEO of the large Mexican PET reclaimer PetStar, said his operation is now handling 50,000 tons of material per year (25 percent above its original stated capacity). And it's seen steady growth despite unique political challenges.
"The government is a mess in Mexico," said Camara. "There is no support at all. We are trying to survive the government."
In addition to that uneasy relationship with policymakers, PetStar has encountered an increasingly competitive environment as more recycling operators have started up in the country and overseas buyers have at times looked to pounce on Mexican bottles.
Camara said the key to survival and growth is simple: Always find ways to operate at a higher level.
"Competition is good," he noted. "You just have to do things well. Be ahead of competition in innovation and efficiency."
Plastics Recycling 2017, which is produced by Resource Recycling Inc., brought together roughly 1,700 plastics recycling leaders for an annual conference that has become the largest in the plastics recycling sector. Plastics Recycling 2018 is slated for Feb. 19-21, 2018 in Nashville, Tenn.