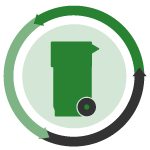 One city may lower its diversion rate goals and abandon its single-stream collection plans, while another gets tough on apartment landlords.
Curbside clothing collections: Several Minneapolis suburbs can now take advantage of curbside textiles recycling. Local NBC affiliate KARE 11 reports that Simple Recycling began this week accepting all manner of clothing for recycling in the communities of St. Louis Park, Brooklyn Center, Brooklyn Park, New Hope and Crystal.
Revised recycling plan: An Arkansas city is considering cutting in half its goal of 80 percent diversion. According to the Arkansas Democrat-Gazette, the proposal in Fayetteville would also abandon a switch to single-stream recycling and would repeal bans on throwing recyclable materials into the garbage.
Mandating multifamily service: Apartment buildings in Atlanta will be required to include onsite recycling service for residents. The city has had that requirement on the books for nine years, writes Atlanta's director for waste diversion on local news website Atlanta INTown, but the rule has been mostly unenforced until now.
Label revisions: Food industry associations are recommending the wide variety of food expiration date labels be revised into two standards. According to a press release from the Natural Resources Defence Council, the proposal would reduce confusion by labeling every product with "use by" or "best if used by" depending on whether food quality or safety is an issue.
Brexit fallout: A committee of the United Kingdom's House of Lords has found that the country's exit from the European Union is likely to substantially affect environmental policy. Letsrecycle.com reports the committee found the Great Repeal Bill, which brings EU law into the U.K.'s statute books once the split is actualized, will "aid stability" but may not cover everything in terms of environmental law.
Eliminating waste: U.S. Rep. Keith Ellison has introduced the Zero Waste Development and Expansion Act, which would create a national grant program to fund efforts toward achieving a goal of zero waste. In a press release, Ellison noted the plan would create local jobs as well as benefit the environment. The bill was previously introduced in 2015 but failed to advance in Congress.
Closing up shop: Ohio-based InterGroup International Ltd. has ended its run after 11 years in business. In an interview with PlasticsNews, owner Neil Gloger attributes the closure to the company racking up too much debt, in part due to several customers' bankruptcies.