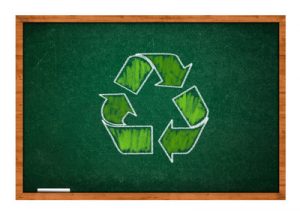 Colleges and universities have begun a fierce competition to determine which campus can recycle the most.
For eight weeks, schools of all sizes will participate in RecycleMania, which launched on Feb. 5. The competition has categories for the weight of recyclable materials and food scraps, as well as overall waste reduction achieved by each campus. Managed by nonprofit environmental organization Keep America Beautiful, RecycleMania is now in its 17th year.
New to this year's event is a Race to Zero Waste category. Through this pilot effort, campuses will test their waste diversion efforts on one building. Schools will strive to dispose of the least amount of material as trash, as well as notch the highest highest diversion rate. The category is specifically designed for campuses with mature waste reduction programs.
In a press release, contest organizers highlighted how the annual event teaches students how to recycle properly, while also contributing to waste reduction on college campuses.
"The RecycleMania competition is a fun and engaging way to encourage students to spread the recycling message to their peers and, in turn, create a well-informed generation of community stewards," said Brenda Pulley, senior vice president of Keep America Beautiful.
The contest ends April 1.