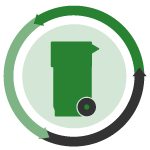 A Canadian city drives its curbside contamination rates down, and a U.S. city increases recycling tonnages by 20 percent.
Contamination reductions: Nanaimo, British Columbia has been successful in reducing contamination from as high as 14 percent down to 10 percent, according to Nanaimo News Now. The target is 3 percent, and hanging over the city's head is the possibility of steep fines from Multi-Material BC (MMBC), the Canadian province's extended producer responsibility program for printed paper and packaging. Meanwhile, the town of Chilliwack will lose its curbside glass recycling when MMBC takes over March 1, according to The Chilliwack Progress.
Food waste bill: A new bill in Congress aims to boost food donations and reduce waste by strengthening language in the law that provides legal protection to food donors. The bill is called the Food Donation Act of 2017.
Expense to revenue: Under its contract, Albuquerque, N.M. had been regularly cutting checks to Friedman Recycling because it wasn't delivering enough material to its MRF. But not anymore. KRQE News 13 reports the city has boosted tonnages by 20 percent and is now being paid by the Friedman under the contract's profit-sharing provisions.
Bottle deposit hike: Portland, Ore. alternative newspaper Willamette Week wrote about the state beverage container deposit program increase from 5-cent deposits to 10-cent deposits, saying it is unlikely to boost redemptions but will pad pockets of beverage distributors. The Oregon Beverage Recycling Cooperative, which runs the state's bottle deposit program, wrote a letter to the editor criticizing that portrayal and providing corrections to the story.