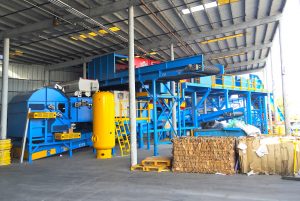 A new materials recovery facility in San Diego is sorting single-stream material from commercial and multi-family sources. Fibers and films make up a substantial portion of those streams, necessitating a specially built sorting system.
Capable of sorting 15 tons per hour, the MRF was designed and installed by CP Group on behalf of San Diego-based recycling services provider Resource Management Group (RMG).
"At RMG, we are very proud to be the first MRF built in the City of San Diego in over 16 years," Armen Derderian, president and CEO of RMG, stated in a press release. "We look forward to playing a larger role as a solution provider in support of the City's recycling ordinance and the state of California's mandated diversion goals."
Material entering the facility consists of a high percentage of OCC, OMP and films. The stream first goes to a manual pre-sort station for removal of oversized items and films. There is the possibility of installation of a film vacuum hood if the film quantity increases.
The stream then travels through a three-deck CP OCC screen for separation of cardboard and a CP glass breaker fines screen for removal of two-inch-minus fines. Very little glass is processed, so what is received is crushed in a garbage compactor for disposal.
After passing through the screens, the material enters a MSS Cirrus optical sorter, which is set up to dual eject containers and fibers. In its standard operation mode for this facility, the sorter positively ejects all containers, including PET, HDPE, mixed plastics, UBC and tin cans, into the first eject chute. The container stream is later sorted by hand. The sorter blows all mixed paper into the second eject chute. Everything else — considered residue — falls into the negative pass-through.
Because so much of the commercial and multi-family stream is single sheets of paper and plastic films, the sorter uses a proprietary air-assist system. The system ensures proper handling of materials on the high-speed conveyor and through the detection and ejection zone, according to CP Groups.
Commodities baled on site include standard mixed paper, OCC and clear film.