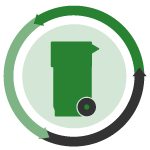 An initiative emphasizes the job creation that recycling can bring, and a San Antonio facility is again ordered to vacate its premises due to alleged violations.
Rollout hang-ups: An alley collection program in St. Paul, Minn. experienced some service problems during its first week, according to the Pioneer Press. In some cases, pickup for recyclable materials was delayed due to icy weather and "logistical challenges," and other residential customers said their streets were skipped entirely.
Economic potential: The Your Bottles Mean Jobs campaign announced it will kick off in the Raleigh-Durham area of North Carolina, aiming to emphasize the economic development aspect of recycling. Gearing up for a spring launch date, the campaign, which was created by the Carolinas Plastics Recycling Council, will encourage households to recycle two more plastic bottles per week, which it says would create an additional 300 jobs.
Curbing contaminants: Waste Management and the town of Elgin, Ill. are collaborating to reduce contamination levels in residential recycling carts. The Chicago Tribune reports the effort involves increased education encouraging residents to recycle bottles, cans, paper and cardboard and discouraging them from putting foods, liquids or plastic bags into carts.
Judge cracks down: A San Antonio recycling center must vacate its premises and clean up the site by March 2, according to KENS5. Ascent Recycling has had a lengthy legal battle with the city and has been forced to move twice before.
Donations down: A curbside textiles collection program in Austin, Texas is being reconsidered by the Austin City Council, reportes KVUE. Local nonprofit organizations have expressed concern to councilors that the recycling program is lowering the number of donations they receive.
Glass focus: Glass recycling options are increasing in the Atlanta area, which has struggled with high rates of glass disposal. The Atlanta Journal-Constitution writes that 16 glass recycling sites will be installed by the DeKalb County government this spring.