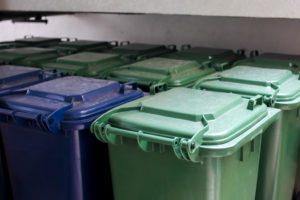 The City of Columbus, Ohio recently received an indicator of current recycling market struggles, when its yard debris and recycling hauler quoted a price nearly 50 percent higher for the city's next municipal collection contract.
Rising collection costs are a familiar story around the country, and the notably higher figures submitted by Rumpke Waste & Recycling in Columbus offer a prime example of the reality haulers and their clients face with unstable markets and the continuing rise of some operating costs.
"The past five years have seen very low selling prices for recycling commodities," Jonathan Kissell, a Rumpke Waste & Recycling spokesman, told Resource Recycling. "Also, we've experienced higher costs for processing material, with increases in maintenance costs within our recycling facility and contamination rates."
Long-standing partnership
Rumpke Waste & Recycling, which operates a number of materials recovery facilities (MRFs) in the region, has worked with the City of Columbus on various recycling efforts dating back to the early 1990s. When Columbus, Ohio's largest city at about 850,000 residents, began its inaugural citywide single-stream recycling effort five years ago, Rumpke naturally submitted a bid to provide that service.
During the competitive process in 2011, Rumpke beat out two other collectors and signed a five-year contract with the city for recycling and yard waste collection to begin in 2012. The contract totaled about $30.1 million paid to Rumpke over five years, according to city documents.
Last fall, the city advertised a solicitation for bids covering the next five years of yard waste and recycling collection. As first reported by the Columbus Dispatch, Rumpke submitted the only bid, and it was nearly 50 percent higher than its former price: an increase of some $14 million over five years.
The bid document provided to Resource Recycling indicates Rumpke would charge about $44.3 million to continue the city's current bi-weekly yard debris and recycling collections through 2022. The price is broken in half, with yard debris and recycling collection priced at more than $22.1 million each. About 201,000 households with recycling carts are serviced, the city estimates. Since 2014, Rumpke has collected an average of about 2,800 tons of recycling per month.
The city's biggest price hit would come immediately: After paying $6.2 million for collection services for the final contract year, which ends in March, the city's rate would jump more than $2 million to about $8.3 million for the first year of the new contract.
Rising costs, new territory
Rumpke says the price increase takes several factors into account, but it generally reflects a move to balance the cost of performing collection service while continuing to meet customers' needs.
"To achieve this, we had to account for rising costs, many beyond our control," Kissell said. He cited market forces as one consideration for the higher bid amount.
Financial statements submitted along with Rumpke's bid show that company wide revenues from the sale of recyclable materials dropped from $43.4 million in 2014 to $36.9 million in 2015. Those numbers include materials collected and sold across Rumpke's Midwest operations.
Meanwhile, wage and insurance costs have both increased during the previous five years, Kissell said. Rather than diminish employee benefits, the company elected to pay the higher costs, increasing wages and meeting health care costs in an effort to retain staff.
The last contract was the first of its kind in Columbus, which presented some uncertainty about what the actual cost of collection would be.
"When we bid for the agreement in 2011, we were embarking upon unwritten territory as the City of Columbus did not have a citywide single stream recycling program," Kissell said. "Our pricing in 2011 was based on estimates, and we underestimated the required work and costs of performing service. We needed additional trucks and more employees working longer hours than expected. Yet we persisted and achieved a 99.9 percent service accuracy rating throughout the five years."
As for the company's lack of competition in this bidding process, Kissell pointed out that the process was open to any company and that in general municipal contracts are "extremely competitive" in the region.
According to the Dispatch, the city will not award the bid until after the annual budget is passed, which is expected next month.
A wider trend
Rising collection costs are not unique to Columbus, although other instances generally aren't as dramatic. Last week, for instance, the Preston County News & Journal reported Waste Management will seek to raise collection rates in nearly a dozen West Virginia counties in order to "recover inflationary increases of operating cost."
In a report last year, IBISWorld found that "plummeting recycled material prices, along with increased costs for waste transfer resulting from a reduction in the number of landfills, have placed upward pressure on firms' operating costs."
Chaz Miller, director of policy and advocacy for the National Waste & Recycling Association, told Resource Recycling a common issue facing the entire industry is figuring out how to manage the risk of fluctuating commodity markets.
"I think, realistically, there's some uncertainty out there right now," Miller said. He pointed to the overall decline in commodity prices since the third quarter of 2011. It's not like the precipitous collapse in 2008, which experienced a relatively quick recovery, but rather a "slow descent," Miller said. That means while costs do rise, the money coming in is often far more difficult to accurately predict.
"It's the revenue end that's the big unknown," Miller said. "And it's the revenue end that can and does vary dramatically."