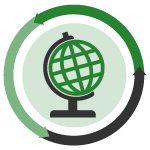 Singapore teaches some very young children how to recycle, and a U.K. group will collect hot-fill paper cups made with recyclability in mind.
Singapore: This city-state of 5.4 million people is targeting recycling education at a particularly young audience: pre-schoolers. Today Online reports some preschool children in the island's southwest district will be taught to identify and sort recyclable materials.
United Kingdom: U.K. paper cup recycling group Simply Cup has started working with the California-based maker of a recyclable paper cup, Smart Planet Technologies. Simply Cup will collect the reCUP, which includes an inside coating blending with minerals, reducing plastic content and allowing paper mills to handle the cups.
United Kingdom: A dog made a Lassie-style rescue of three puppies left in a recycling bin, according to the Daily Mail. While being walked, the dog discovered the puppies and barked until its owner came to their rescue.