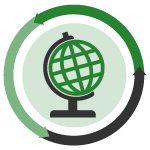 A leader in a German village vows to fight food scrap collection, and an online panel will discuss ways to reverse the U.K.'s falling recycling rate.
United Kingdom: The Guardian newspaper will host an online panel to explore solutions to the country's falling recycling rate. The panel will include representatives from Linpac, TerraCycle, Suez Recycling and Recovery UK, Recoup and Coop. As of 2015, the U.K.'s recycling rate was 43.9 percent, down from 44.8 percent the year before.
Germany: A small Bavarian village continues to resist federal laws requiring citizens to separate food scraps for composting, according to thelocal.de. Altotting is resisting the change, with the chairman of the town council vowing organics bins will not be introduced.
Kuwait: A newspaper takes a look at the difficulty of sustaining recycling operations in this tiny Gulf state. The Kuwait Times interviewed a local recycling expert, who pointed out that a lack of domestic manufacturing makes recovered materials markets difficult, but the problem is compounded by commodity export restrictions.
United Kingdom: The mounds of booze bottles piled up at U.K. collection centers attest to the hard partying many Britons did on New Year's Eve, according to the Daily Mail.