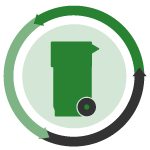 A Pennsylvania community bucks the single-stream trend, and fewer Oregon grocery stores redeem beverage containers because more stand-alone centers are opening.
Keep 'em separated: After a consultant's study on switching to single-stream collection, Centre County, Pa. has decided to keep its source-separated system. The Centre Daily Times reports solid waste commissioners felt the switch would be too costly, increase contamination and not increase an already-high participation rate.
Curbside compost: Starting Jan. 1, residents in Winnipeg, capital of the Canadian province of Manitoba, will have access to curbside organics collection. CBC News says a nonprofit group is operating the service for $25 a month.
BottleDrop rise: Oregon grocery stores are slowly getting rid of their bottle redemption machines now that more standalone centers are going in. So far, the state has 18 BottleDrop centers, according to KGW, with plans for a total of 45.
Bottle drop drop: In California, more beverage container redemption centers are closing because of low commodity prices. In an interview with KCRW, Susan Collins with the Container Recycling Institute says state subsidies need to increase to keep these centers alive. But the state says it has already increased payments and can't do much more.