This story originally appeared in the November 2016 issue of Resource Recycling.
Subscribe today for access to all print content.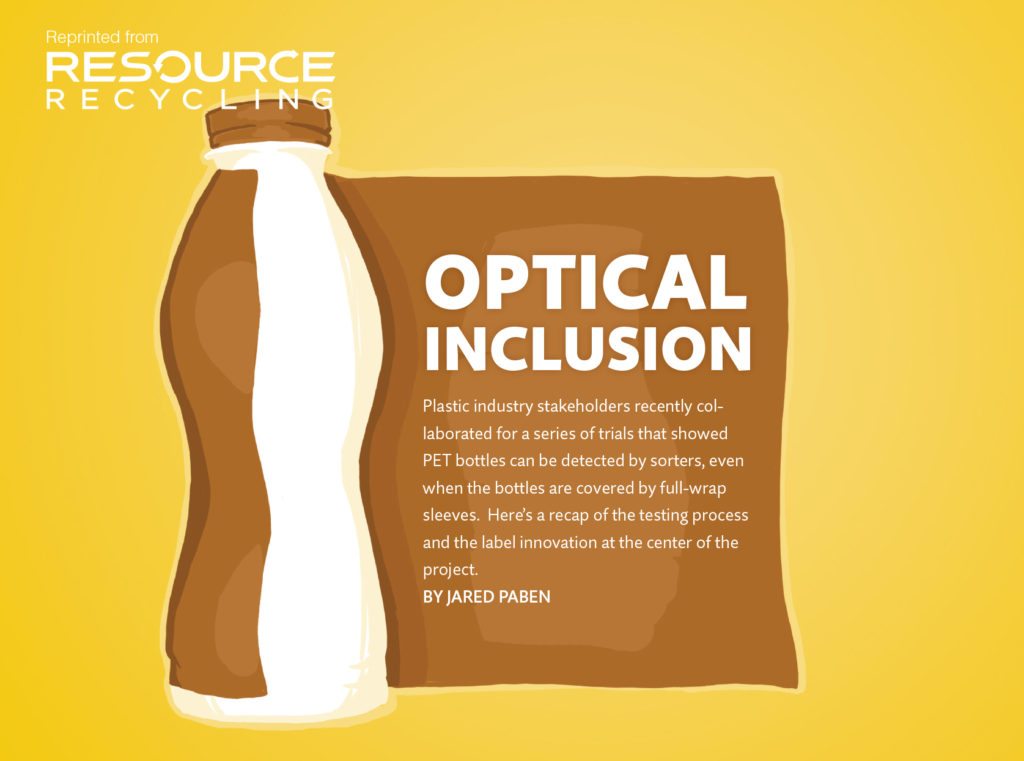 Some full-wrap shrink-sleeve labels can confuse optical sorters and degrade recycled resins, which is bad news for PET plastic reclaimers. Yet the labeling format is anything but a waning trend.
More and more PET bottles employ the labels, which use wrap-around graphics to entice consumers to pluck the product off the shelf. In fact, nearly one-fifth of the container market now incorporates the labeling format, and it is one of the fastest-growing label segments, experiencing a 5.5 percent compound annual growth rate, according to international labels company UPM Raflatac.
"When you walk the aisles in the supermarket, you see the increased amount of shrink-sleeve labels on all sorts of products," said Erkki Nyberg, director of shrink-sleeve films at UPM Raflatac.
Multiple label makers have worked to ensure their shrink-sleeve labels separate from the PET and float in float-sink tanks. But an equally important issue is guaranteeing that materials recovery
facilities (MRFs) correctly sort the bottles so they end up in the right bale in the first place.
A recent in-depth testing project showed the work being done at the intersection of sleeves and sortation.
Shrink-sleeve innovation
Some full-wrap shrink-sleeve films, including those made of PVC and PETG, are denser than water and will follow the PET bottle grinds to the bottom of the float-sink tank, contaminating the PET stream. PETG, in particular, seems to be holding market share. The presence of these labels can complicate processing – because they have different melt temperatures, for example – and the films and their ink residues can ultimately degrade the quality of the recycled resin.
They also cost PET reclaimers buying curbside bales an estimated $44 to $88 per metric ton of recycled PET flakes, according to a September 2014 report from the Shrink Label Working Group of the Association of Plastic Recyclers (APR). That estimate is a
reflection of additional costs on all recycled PET flakes, not just flakes solely from bottles with full-sleeve labels, and it takes into account costs for equipment to manage shrink-sleeve labels, labor, yield loss and impacts to final recycled PET quality.
To help combat these issues, UPM Raflatac recently developed a floating polyolefin-based label, called the RafShrink PO MDO 40 HS, that has a density considerably lighter than water: 0.935 grams per cubic centimeter (water is 1 gram per cubic centimeter). The label film works in roll-fed shrink-sleeve applicators handling more than 50,000 bottles an hour, or nearly 14 bottles per second.
The floatable shrink-sleeve label materials need to be less than the density of water with printing included. Labels with density close to 1 gram per cubic centimeter with heavy printing are more at risk of sinking, said Kristi Hansen, technical director at Amherst, N.H.-based Plastics Forming Enterprises (PFE).
UPM Raflatac's Nyberg added the weight should be less than 0.98 grams per cubic centimeter to ensure a printed label floats in a caustic soda wash at 85 degrees Celsius (185 degrees Fahrenheit).
"Our film is very low-density," he said. "Even with the ink on it, it will float in any case."
Putting labels to the test
After developing the label film, UPM Raflatac engaged PFE for testing.
The first step was to verify the label was recyclable per the APR test protocols currently available. The testing replicated the worst-case conditions for what happens after the plastic leaves the MRF or plastics recovery facility: bottle grinding, washing, air separation, extrusion and molding into a part. Trials showed the label met the criteria, floating in water and not coloring or hazing the recycled PET, PFE's Hansen said.
UPM Raflatac received an APR Recognition Letter for successfully meeting the guidelines of the APR Shrink Sleeve Critical Guidance Document Protocol. It also received a European PET Bottle Platform (EPBP) Letter.
However, in this case, testing went beyond ensuring development of a commercially viable label that separates and floats.
UPM Raflatac and PFE also worked with six different optical sorting technology suppliers to evaluate the label innovation and better understand the challenges with shrink sleeves in general.
The decision to conduct optical sorter testing was made by UPM Raflatac but was driven by the understanding that brand owners want to ensure packaging recyclability.
For some major brands, a recycling- friendly sleeve meeting APR guidance is simply "a ticket to play," a prerequisite to consideration by a brand, Nyberg noted.
The testing was extensive. "This is definitely an above-and-beyond effort," Hansen said. "They are setting the bar for … full recyclability."
PFE tested five different colors of the RafShrink PO MDO 40 HS label on the different optical sorters. The containers with white, black, cyan, magenta and yellow UPM Raflatac labels went into a mix of off-the-shelf containers for comparison testing. That mix included two dozen different PET drink bottles, two PET thermoforms, four colored PET bottles, four shrink-sleeve label containers, two black plastic items and a host of non-PET packaging. The other shrink-sleeve labels used in the test were made of PETG.
Bottles were compressed before they were sent through optical sorters from the six different manufacturers: NRT, MSS, Pellenc, Sesotec, RTT-Steinert and TiTech. The testing occurred over a period of about three months in 2015. Material was shipped to two facilities in Nashville, Tenn., one in France and three in Germany, and both PFE and UPM Raflatac officials were on hand to witness and learn from the trials.
"It took time because we felt the need to get close to the project and results," Hansen said.
In a letter sent to the optical sorter companies, PFE emphasized the test wasn't executed to compare sorting equipment. Because of that, neither PFE nor UPM released compiled results by vendor. They also emphasized it was not a commercial trial but rather one conducted in a lab setting.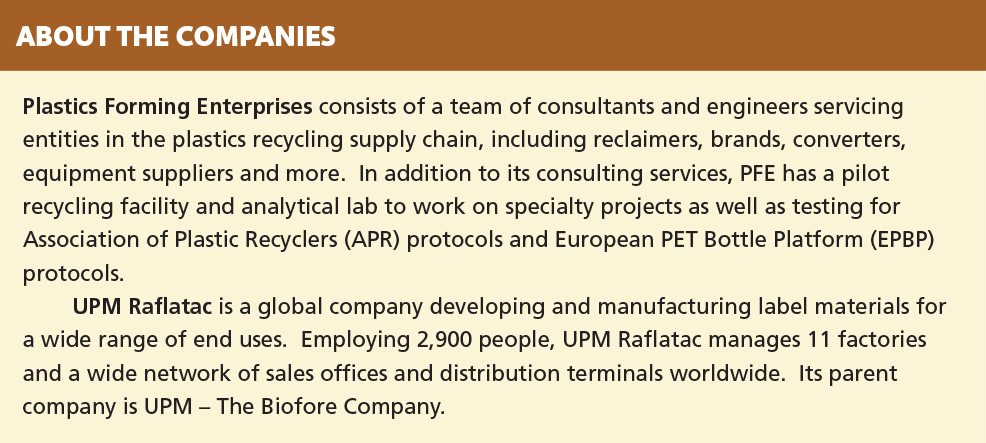 "The primary effort is to determine what will be required to optimize the parameters, if any, to accurately sort the innovation label," according to the letter. The equipment was set to model the settings of sorters positively sorting PET.
"Ideally the conditions that can be found in the units are found in the market today," the letter stated.
Successful separation
The results showed the UPM Raflatac label allowed for the proper sortation of clear PET containers, with the near-infrared cameras able to detect the PET resin below the polyolefin label.
In most trials, the optical sorters were able to positively identify the clear PET containers with the UPM Raflatac label and send them along with the clear PET bottles without full-wrap shrink-sleeve labels. In some cases, in fact, the optical sorters were more successful at properly sorting the UPM Raflatac labeled-bottles than clear PET bottles without full-wrap labels.
All told, the RafShrink PO MDO 40 HS labels provided average detection rates of 92 percent, compared with 40 percent for PETG sleeve labels, according to UPM
Raflatac. PET bottles without UPM Raflatac or PETG labels were detected an average of 87 percent of the time.
Hansen and Markus Kivelä, UPM Raflatac's product manager of shrink-sleeve films, presented the results of the testing at the APR Technical Forum, held in conjunction with the Plastics Recycling 2016 conference in February in New Orleans.
Another notable conclusion came in the color realm. When it comes to full-wrap labels, the bottle's resin is easier to identify than its color. That's no exception with the RafShrink PO MDO 40 HS label.
"They felt they hit a homerun from the resin perspective, which was the real question," Hansen said. "But from a color perspective, all shrink-sleeves that are printed neck-to-base are going to have the same challenges with the sortation equipment."
The visible light cameras detecting bottle color aren't able to see below the labels to identify and recognize clear PET from green, blue or amber plastic.
"Container-color sorting is a challenge with all full-body sleeves," PFE and UPM Raflatac concluded in the presentation delivered at Plastics Recycling 2016. "This is independent of the used sleeve-polymer type and is a challenge for the general labeling technology with high bottle-coverage percentage."
PFE and UPM Raflatac recommended brand owners only use clear PET with full-body sleeves. "For anybody to use a colored PET bottle under a full-body sleeve would be pure madness," Nyberg said.
'Ten steps forward'
The RafShrink PO MDO 40 HS label is now commercially available around the world, although Nyberg wouldn't comment on whether any brands have yet adopted it.
Pricing is competitive with other shrink-sleeve labels, he said. "It's not an extremely high-cost product," he said.
UPM Raflatac doesn't currently anticipate repeating the optical sorter trials on other shrink-sleeve labels because new products in development utilize the same chemistry as the tested film.
Hansen praised the cooperation of optical sorter companies participating in the trials. And those companies also walked away with helpful knowledge, she said. The trials gave them a preview of materials coming to market and also helped them understand how to optimize their equipment to better sort new packaging, all of which is knowledge they can share with their customers.
Additionally, the testing may help label suppliers understand end-of-life sortation realities.
"I think what UPM has done has really been eye-opening for other innovations," Hansen said. "They may have taken 10 steps forward for themselves, but they may have taken five steps forward for their competitors."