This story originally appeared in the November 2016 issue of Resource Recycling.
Subscribe today for access to all print content.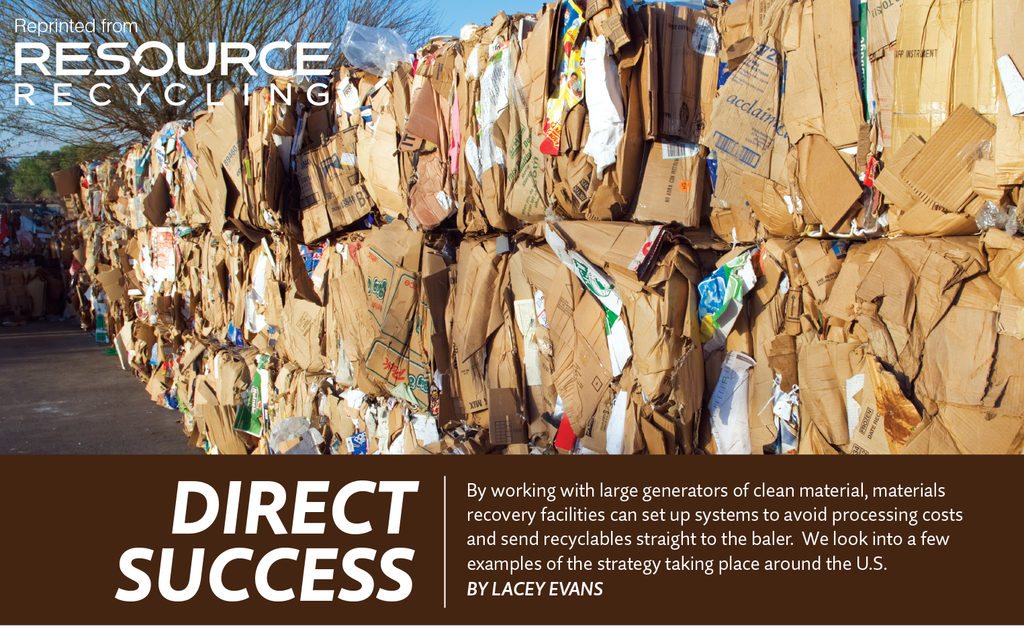 In the current era of low commodities pricing and lighter products filling curbside carts, recycling processing companies are having a harder and harder time making a profit.
This phenomenon has materials recovery facilities (MRFs) thinking of ways to lower costs, and one solution utilized by some facilities is a concept called direct baling.
The ability to load clean, homogenous loads of materials directly into a baler, and therefore avoiding sorting lines and manpower, is a pathway to efficiency and profitably, according to MRF operators. The process is particularly powerful for materials recovered via drop-off collection and when large generators of just a few material types see incentives to deliver clean shipments.
Sending 10 percent right to the baler
For one example of direct-to-bale implementation, the industry can look to Far West Recycling, a company with four MRFs in the Portland, Ore. metro area.
At the Far West MRF in Beaverton, a Portland suburb with nearly 94,000 people, about 10 percent of incoming material is diverted to direct-bale processing, according to Vinod Singh, the company's outreach manager.
The primary business for Far West is residential commingled recyclable materials collected curbside. But Far West also has six drop-off sites in the area where residents self-separate recyclables. The depots target lower-value materials, such as expanded polystyrene plastic and plastic clamshells, and are offered as a public service, but a benefit to the business is that those those items generally don't need to be sorted and can thus take the direct-bale route.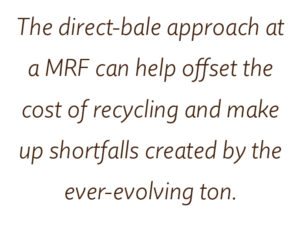 The Beaverton facility also has contracts to accept shredded paper, carpet pad and black agricultural plastic, all materials that come in clean and can go direct to balers as well.
Direct-to-bale business is something Far West would like to grow, said Singh, but that often depends on the generator. If it's not convenient for the generator to separate materials and send clean loads to the MRF, the effort will never get off the ground.
For example, if Far West has a contract with a retail store for cardboard, and the retail store doesn't have enough room on its dock to separate the cardboard from other materials, the load of cardboard Far West receives isn't going to be clean enough for direct-bale handling.
Amy Fleming with Green Life Waste Solutions in Burlington, N.C. agrees that direct-to-bale business relies heavily on the generator.
Green Life is a drop-off facility, which serves the entire state and beyond. It does 100 percent direct-to-bale business.
The company also provides drop trailers to businesses and goes into manufacturing facilities to see what is going to the landfill. They often find recyclables. Manufacturing and textile plants are Green Life's biggest customers.
Green Life doesn't have sorting lines, so it needs the material stream to be as clean as possible.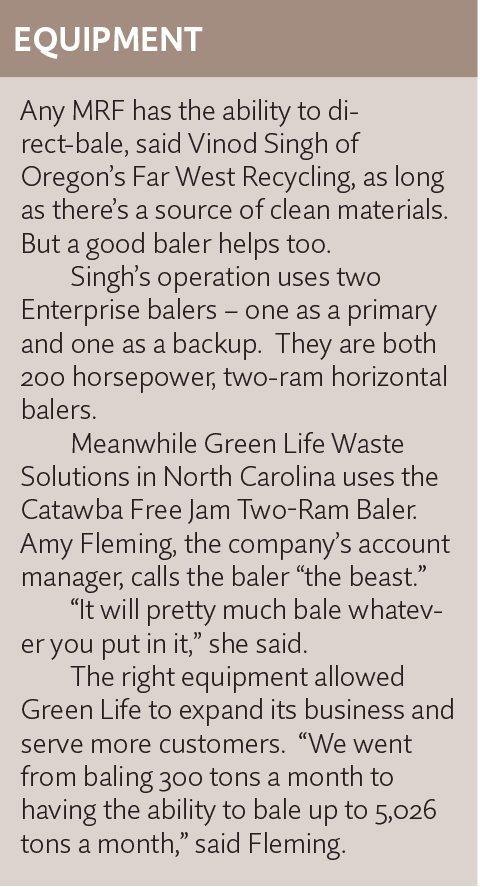 "It's important to be able to communicate about separating the various recyclables," said Fleming. "Sometimes it's hard when they have a continuous flow of new people coming in, but for the most part, people want to do well with it. When you explain to them, they are willing to work with you as far as separating the LDPE from the cardboard."
Fleming said communication with the point of contact is key, and part of her company's mission is to help businesses expand their recycling efforts.
Bringing benefits to generators
Direct-to-bale business is beneficial for MRFs because material takes less time and manpower to process. But the strategy can help lift the client as well.
As explained by Singh from Far West, if a client is able to provide Far West with clean material, Far West will charge that entity less in processing costs. Providing clean material, in other words, becomes a path to better pricing for the supplier.
It's clear a number of materials generators are starting to understand the upside of keeping recyclables clean and separated. Many non-MRF businesses actually use balers themselves to maximize the process.
The recent purchase of two Bramidan 60-inch balers, for example, has helped Method Home increase its efficiency and recycling goals. The company, which makes household cleaning products, has a manufacturing facility in Chicago, where it generates a lot of cardboard and PET bottle material.
"As a manufacturer, we generally accumulate a good deal of plastics and corrugated boxes on a daily bases and the centralized storage had become very congested," said Austin Simpson, Method's environmental health and safety manager. "This affected us from a materials movement standpoint because the recycle area was spilling into our forklift aisle, which also became a safety concern."
Before the balers, employees were filling gaylords with the material and shipping them by truck to a processor, sometimes three times a week. The on-site balers allowed Method to reduce the number of trips needed. In addition to increased efficiency and a decrease in greenhouse gases, Method was rewarded by recycling processors for cleaner material.
"We were able to obtain better rates for baled recycled goods as opposed to loose items," said Simpson.
Planning for the future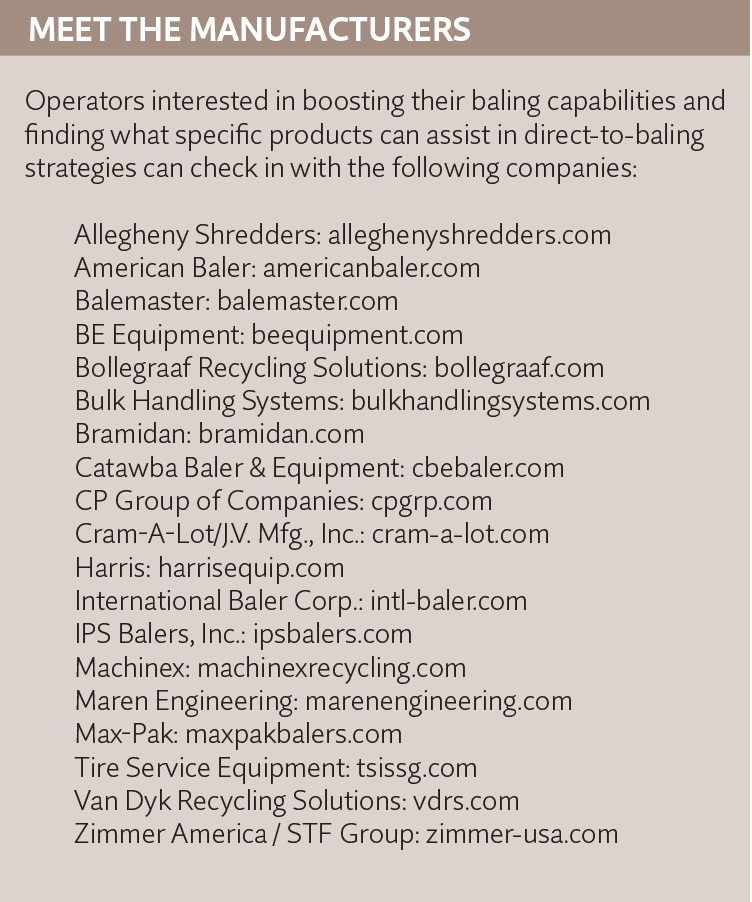 In an October 2015 feature in Resource Recycling, authors Michael Timpane and Kerry Sandford detailed the importance of direct-to-bale initiatives in MRF design. The two seasoned MRF business experts called the move a "penny-wise decision" and one of the easiest ways to lower costs. They recommended that existing MRFs keep direct-to-bale processing in mind when renovating and planning for the future.
The authors also called direct-bale access a bypass mechanism for when sorting lines go down or are closed for an extended period of time. Materials can still be baled and shipped to a different facility.
In short, the direct-bale approach can be beneficial to both recycling companies and their clients, and should be considered when designing MRFs and writing contracts.
Any MRF can increase its direct-bale business, but communication with the client is key. In the end, it might offset the cost of recycling and make up the shortfalls created by the ever-evolving ton.