Black Friday has come and gone, but chances are you still have holiday shopping to do. Why not get your loved ones gifts made from recycled materials?
Check out these ideas from us here at Resource Recycling. From toys to handbags to kitchen knives, all the products are made with recycled content. They were each featured in print editions of Resource Recycling magazine:
Product: Drink bottle
Company: Love Bottle
Portland, Ore.
Recycled content: 40 percent recycled glass
Market: General consumers
Love Bottle sees refillable glass bottles as a way of combating plastic pollution while saving consumers money.
It also sees them as a way of spreading the love.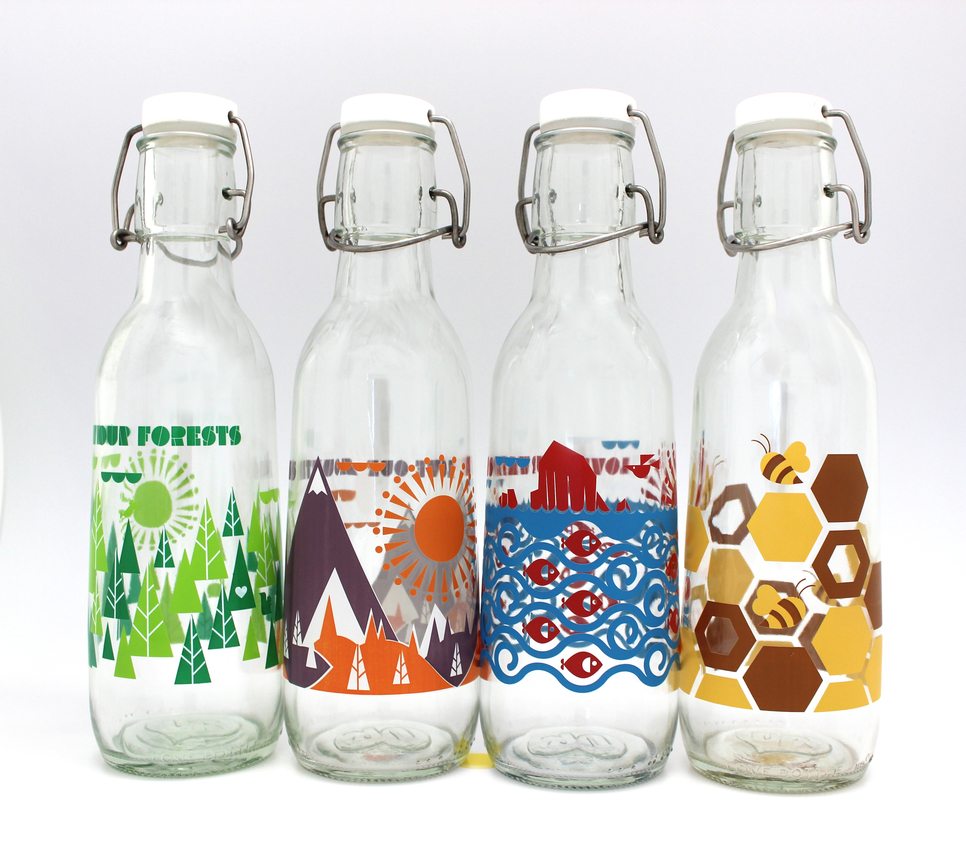 "This bottle was made specifically to bring love and water together and to share it with you," writes Love Bottle founder Minna Yoo on the company's website. "Love Bottle was born from our intention to create a beautiful, healthy, earth friendly, delicious vessel that came with love."
The Portland, Ore.-based company's sealable glass bottles are made by Owens-Illinois with 40 percent recycled content, said Robert Riley of Love Bottle.
The company started in 2008, but only with its recent deal with Owens-Illinois was it able to realize its goal of manufacturing its bottles entirely in the U.S. Previously, it was unable to meet the minimum order requirements of U.S.-based manufacturers.
Love Bottle signed the Owens-Illinois deal after a Kickstarter campaign raised $32,500.
The company's website emphasizes the environmental damage caused by marine plastics, as well as the major cost savings consumers enjoy when they fill a reusable bottle with tap water, as opposed to buying bottled water.
If the typical American used Love Bottle instead of purchasing 167 plastic bottles per year, he or she would save around $334, the company estimates.
The company aims to reduce waste with its own product as well. Riley said Love Bottle asked its lid manufacturers to save unusable lids, and Love Bottle plans to create art sculptures with them.
A 500-milliliter bottle with a logo sells for $25.
---
Product: Animal figures
Company: Acacia Creations
Emigsville, Pa.
Recycled content: 100 percent recycled aluminum and other metals
Market: General consumers
When employment opportunities for young men meets metals recovery in a country without much recycling infrastructure, the result is Canimals.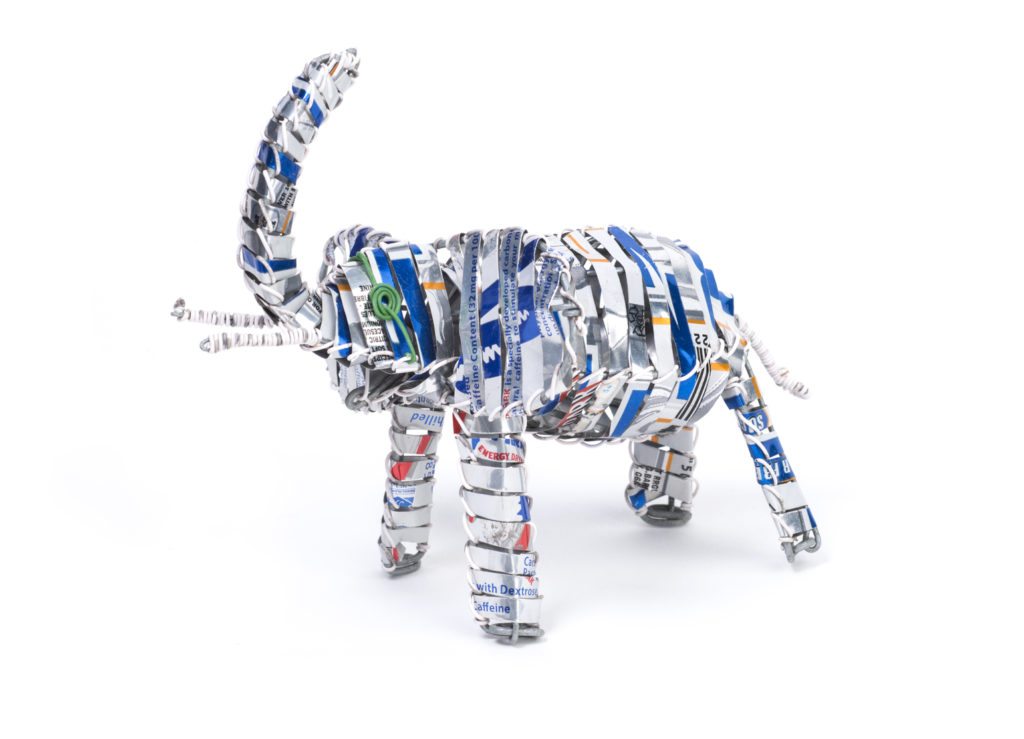 Acacia Creations sells a variety of craft animal figures made of recycled aluminum cans and wire. Cans are cut into a continuous strand, which is then wrapped around a recycled wire frame and bound with recycled telephone wire.
The Canimals are handmade in a workshop in Kenya training and employing young men, an effort to keep them off the streets.
"These animals are helping to provide income and encourage creative recycling solutions in a country where recycling is rare," according to Acacia Creations.
At peak times, the workshop employs more than 45 artisans. All told, it has recycled more than 50,000 aluminum cans.
Pennsylvania-based Acacia Creations was founded in 2007 by Maura Kroh, who worked in refugee camps in Africa and noticed the artistic talent of residents but a lack of retail outlets for their work. The company was founded as a way to connect crafty locals with the global consumer marketplace.
---
Product: Knife
Company: Bloodroot Blades
Arnoldsville, Ga.
Recycled content: 100 percent (70 percent steel, 20 percent maple, 10 percent copper)
Market: Cooks
Forging steel knives from recycled sources can be more challenging than working with new steel.
But for the small Georgia company Bloodroot Blades, it can also be more rewarding.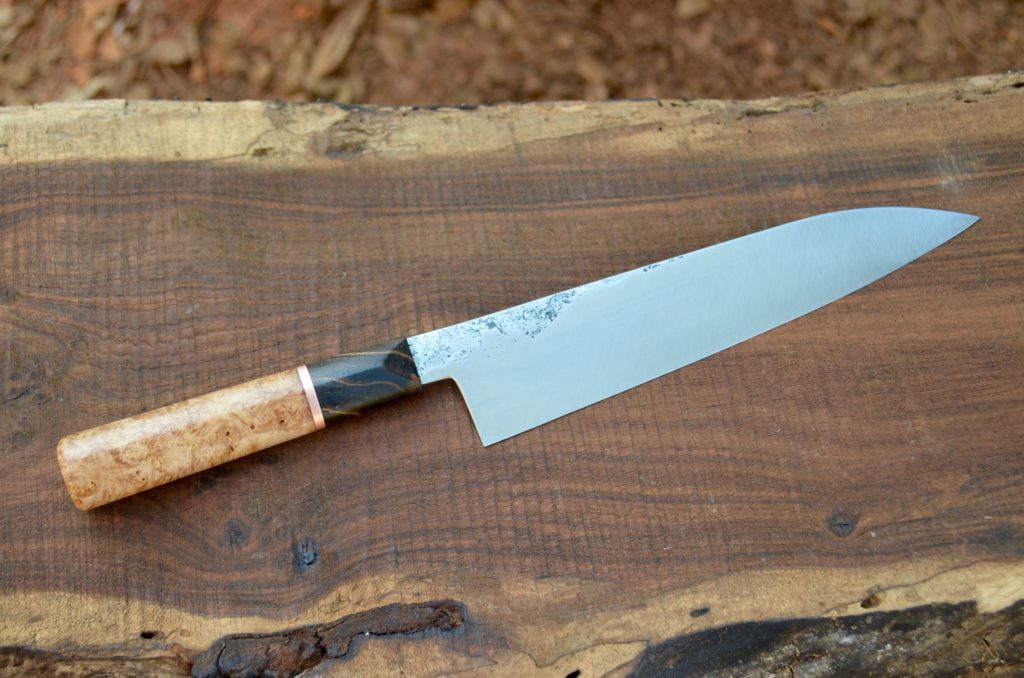 "At our volume, using recycled steel is not cheaper than buying new steel," according to the company. "However, these materials allow us to impart interest and story into each blade."
The company specializes in handmade, high-quality knives made from recycled sources. The knife pictured, for example, is about 70 percent steel, 20 percent maple wood and 10 percent copper.
For this product, the blade came from an old granite cutting saw blade, the maple burl from trees knocked down for a road-widening project, and the copper spacer from industrial scrap, said Kay Van Wyk, company spokeswoman.
"We source all of our recycled materials on our own," Van Wyk said. "We source our materials from woodworking friends, junkyards, old garages, flea markets and the woods."
Bloodroot Blades works with carbon steels as opposed to stainless steels, allowing the blades to develop unique visual patterns, called patinas, that are derived from the foods that get cut. They're also easier for people to sharpen than stainless steel knives, Van Wyk said.
"Carbon steel is also a better medium for us because we can forge it," she said. "Stainless steel cannot be hand-forged well. In an industrial setting, it can be forged, but we aren't in an industrial setting."
Bloodroot Blades makes custom knives for clients, and it holds monthly lotteries through which it makes 20 or so knives available for purchase to newsletter subscribers. Prices range from $200 for a small knife to more than $1,200 for the largest and most complex items.
---
Product: Belt
Company: Jelt
Bozeman, Mont.
Recycled content: 100 percent polyester
Market: General consumers
Creating a product from recycled content is difficult, says Jen Perry, inventor of the Jelt Belt. But making it in the U.S. is no walk in the park either.
"The most difficult part of moving manufacturing to the U.S. is that many of the companies that make injection molds and factories that do assembling do not get back to small companies with bids, and if they do, it takes them months to respond," she said. "But I am determined to have the 'Made in the U.S.A.' stamp on Jelt."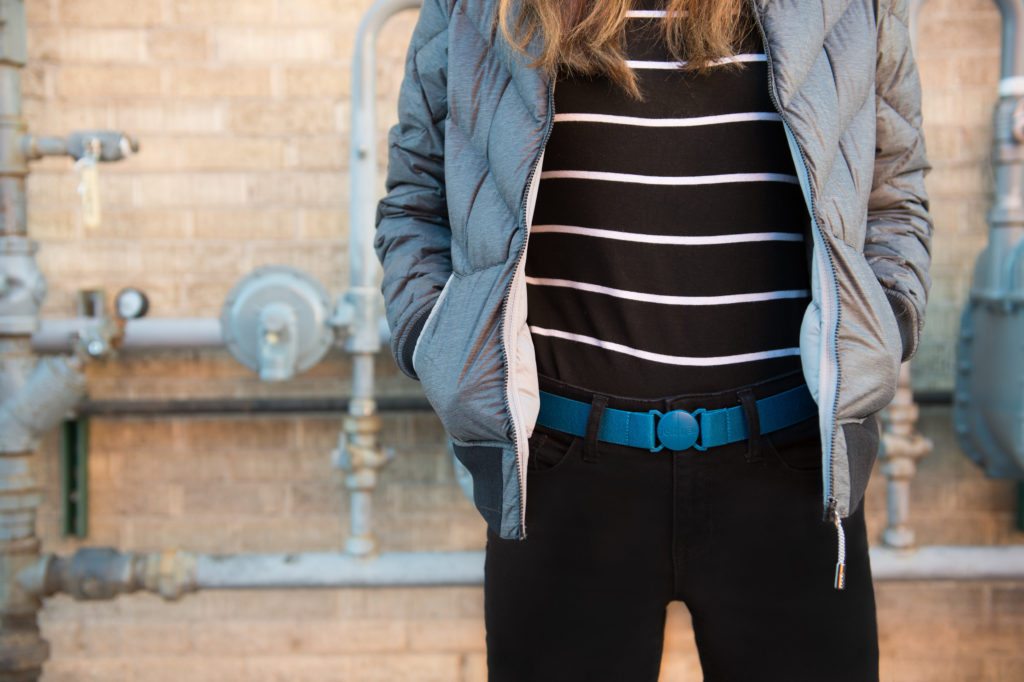 The Jelt Belt is a low-profile, metal-free belt with a silicone gel on the inside to grip the pants.
The belt, which comes in a variety of colors, is made from a recycled yarn woven into a strong elastic. The nylon buckle is virgin content, because recycled content would make it too fragile, as is the silicone, Perry said.
"We currently source our yarn from China because it's the only place to access recycled polyester yarn in large quantities right now," she said. "China is also the only place that does silicone stamping onto elastic, which makes our elastic super grippy."
Perry, who launched Jelt in early 2014, said she hopes to move operations to the U.S. The company would still receive the stamped elastic from China but would complete packaging manufacturing and product assembly in Montana.
With every belt purchased, Jelt donates $1 to Warriors and Quiet Waters Foundation, a group dedicated to healing combat-wounded veterans through fly-fishing activities.
---
Product: Toys
Company: YOXO
St. Paul, Minn.
Recycled content: 95 percent recycled fiber
Market: Parents of creative kids
For children already building items out of paper-towel rolls and cereal boxes, toys from YOXO might fit the bill.
The company makes what are essentially building blocks that connect with everyday household items, allowing kids to build new objects. The blocks come in Y-, O- and X-shaped links.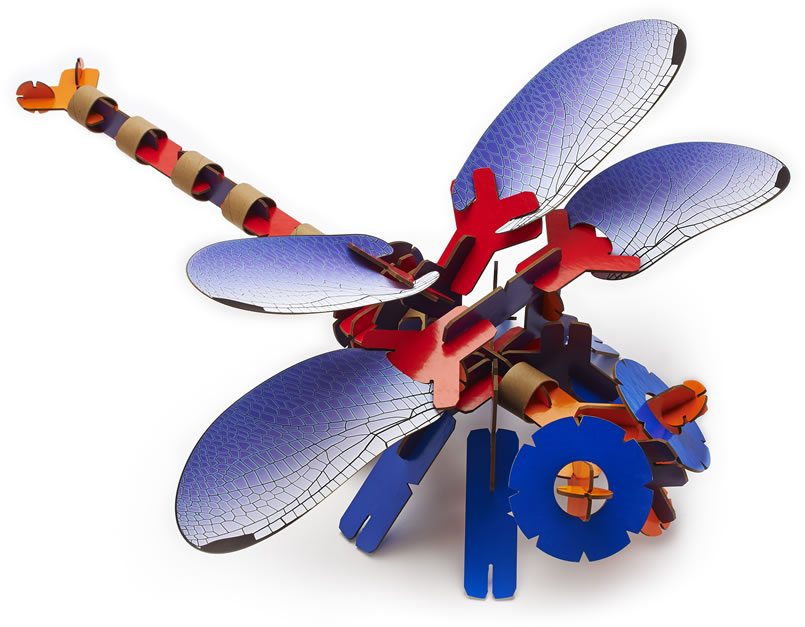 The St. Paul, Minn.-based company makes its YOXO kits with 95 percent recycled fiber, using, when possible, post-consumer recycled paper and cardboard.
"Most toys are made from plastic on the other side of the planet, and will eventually end up in a landfill," Jeff Freeland Nelson, company founder and CEO, stated in a press release. "We decided to do it differently. We wanted to make a product from sustainable, recycled and recyclable material, and we wanted to manufacture it in the U.S."
Initially, the company used lasers to cut the parts out but found they burned the edge of the material, forcing staff to spend hours cleaning parts.
The company eventually purchased water-jet cutting systems from St. Michael, Minn.-based Jet Edge to cut out the parts. The water-jet systems use 55,000 pounds per square inch of water pressure to cut material.
---
Product: Handbags
Company: Escama Studio
San Francisco and Rio de Janeiro
Recycled content: 100 percent post-consumer aluminum
Market: Women's accessories
Instead of heat and a molten vat, this aluminum recycling venture just requires patience and skilled hands.
Escama Studio, a California- and Brazil-based company, sells high-end handbags made from aluminum beverage can pop tops. All of the can tops are post-consumer material, and they're hand-washed and crocheted by members of artist collectives near Brasilia, Brazil.
In business since 2004, the company has manufactured close to half a million bags.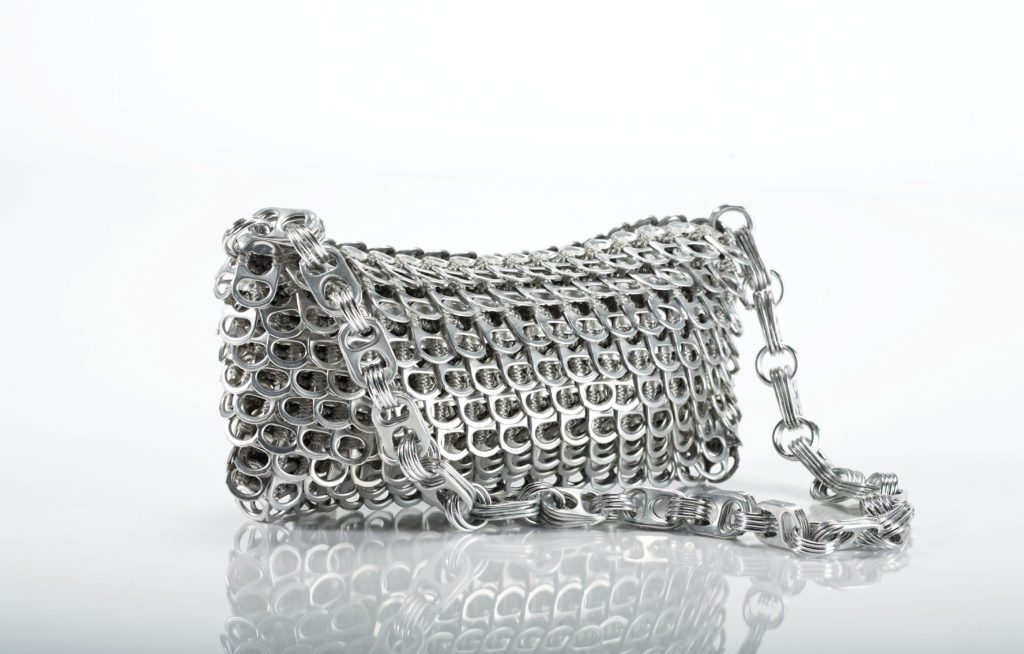 "We have a cult following worldwide of hardcore fans who are absolutely in love with our products," said Andy Krumholz, company founder.
Escama means "fish scales" in Portuguese, a reflection of the look of the products.
The company provides employment at fair wages for 65 craftspeople. It sells its products in 30 countries, including the Museum of Modern Art in New York, the Royal Academy of Art in London and Takashimaya department stores in Japan.
The company and Krumholz participated in the first-ever "Upcycled Pavilion" at the Institute of Scrap Recycling Industries convention in April in Las Vegas.
---