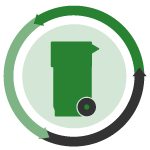 Chicago passes a budget that includes a fee on shopping bags, and Whirlpool offers an answer to food waste.
Compost at home: In an effort to cut down on food sent to disposal, Whirlpool has designed an appliance that turns food scraps into fertilizer. As reported by Digital Trends, the Zera Food Recycler turns food scraps into usable fertilizer in 24 hours.
Rollin' on the river: Ferrous scrap processors have a new domestic market. Big River Steel is now in operation alongside the Mississippi River in Osceola, Ark. The facility can produce 1.6 million tons per year from a materials mix containing about 60 percent scrap metal.
Bags in the budget: The Chicago budget proposal was passed unanimously by the City Council, according to ABC 7. The budget includes a 7-cent fee for consumers on all paper and plastic bags distributed by retailers.
Holiday cup backlash: Not everyone likes the red holiday cup Starbucks uses this time of year. Treehugger.com and environmental group Stand are protesting the coffee giant's use of a non-recyclable disposal cup.
Recycling rescue: An employee at West Rock Recycling in Portland, Ore. needed to be saved from a large hopper machine, says KGW. The man's legs were stuck in the machine and firefighters had to disassemble part of the hopper to rescue him.
One man's trash … : Two men in Seattle are scouring garages, looking for anything that can be reused and recycled. The Scrapblasters, as they are known, tell KOMO they even melt down old milk jugs and turn them into art.
Morocco: While attending the United Nations' Conference of the Parties, the head of the Bureau of International Recycling once again advocated for a Global Recycling Day. According to Recycling International, Ranjit Baxi also pushed for recycling to be considered in future climate change negotiations.