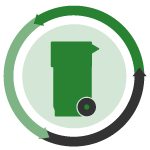 A paper-products maker shifts from newsprint to recycled lightweight linerboard at a Quebec mill, and a hauler serving multi-family housing is caught dumping recyclable materials into the garbage.
From newsprint to linerboard: Montreal-based Kruger Inc. says it is on pace to begin producing 400,000 tons per year of all-recycled lightweight linerboard by May 2017. The $188 million project at its Trois-Rivieres, Quebec mill entails the conversion and rebuilding of a newsprint machine.
Recycling rip-off?: KOIN-TV in Portland, Ore. investigated Valet Waste, a nationwide trash and recycling collector. Residents of a local apartment complex have video of the company collecting recyclable materials and throwing them into the trash compactor. Valet Waste says it is investigating.
High on compost: At January's Compost2017 conference, there will be a panel discussion called Compost and Cannabis: A Match Made in Legalization. The conference is being held in Los Angeles, where marijuana was legalized after the passage of a statewide proposition Tuesday.
RFPs ASAP: The City of Phoenix is looking for companies interested in recycling carpet, latex paint and wood. Phoenix is attempting to boost its diversion rate by finding processors for hard-to-recycle items, including palm fronds.