This story originally appeared in the October 2016 issue of Resource Recycling.
Subscribe today for access to all print content.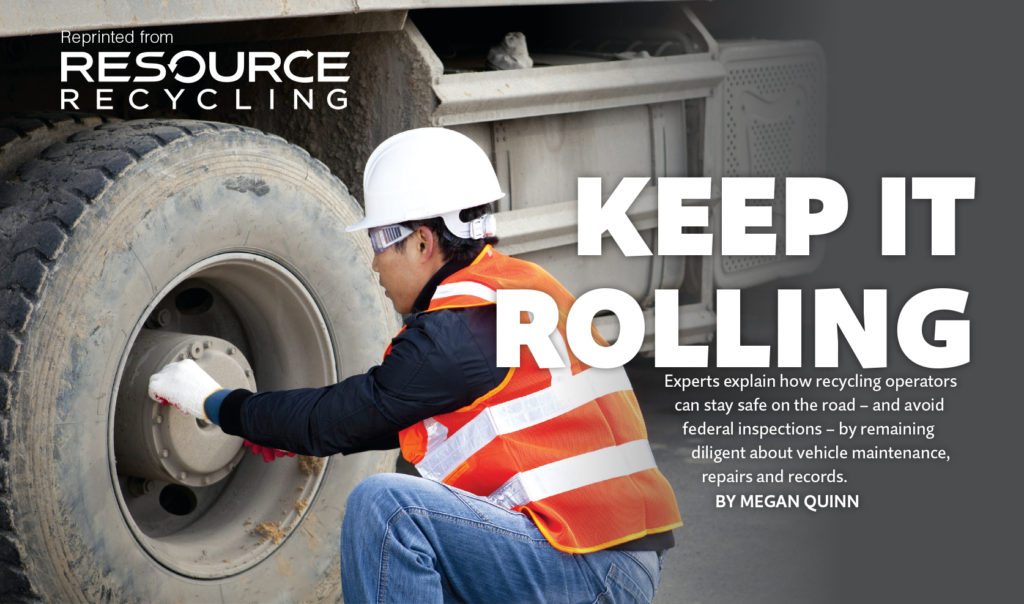 It happens to a lot of drivers hauling a load of scrap along the highway: A flat tire forces you to pull over, or you get pulled over for speeding, a broken taillight or some other infraction. Then you see a Department of Transportation (DOT) officer and realize this is a roadside inspection.
Whether you have your own truck fleet or hire motor carriers, experts say it is imperative to stay safe on the roads by following the rules outlined in the Compliance, Safety, Accountability program. The Federal Motor Carrier Safety Administration launched CSA and the related Safety Measurement System in December 2010. SMS replaced SafeStat, the FMCSA's previous safety data tracking and evaluation system.
In the six years CSA has been in place, some recycling operations say they have implemented a few basic strategies to step up their efforts to stay in compliance and keep drivers safe. Those include communicating more effectively with mechanics, getting more input and engagement from drivers, and conducting more detailed pre- and post-trip inspections so drivers can avoid the "tells" that might lead to CSA inspections.
A system aiming to prevent crashes
CSA is the scorecard that gauges fleet safety, no matter how many trucks or trailers a carrier has, says Monica Boebel, fleet safety director for Behr Iron & Metal in Rockford, Ill. Behr has 56 full-time drivers, 106 on-road trucks and 10 service trucks. Boebel said the scorecard is important to her company not just to avoid fines and punishments. "We owe it to our drivers to care about their safety and the safety of the motoring public, our customers and our company," she said.
The CSA program aims to improve large truck and bus safety and reduce crashes, injuries, and fatalities by putting the FMCSA in contact with more carriers more often, which helps identify and intervene in potential problems before they can result in a crash. Roadside inspections are a big part of this process. FMCSA estimates that in 2011, roadside inspections helped prevent 14,779 vehicle crashes by finding and correcting safety issues.
The CSA program measures carriers' and drivers' safety performance and identifies those who need safety interventions. The program also identifies specific safety problems that a carrier or driver has, and it monitors whether those safety problems are getting better or worse. The SMS collects data and calculates safety scores based on six categories called behavior analysis and safety improvement categories, or BASICs. The categories include:
Unsafe driving, such as speeding, driving carelessly, or texting while driving.
Fatigued driving, defined as operating a commercial motor vehicle when not in compliance with hours-of-service regulations.
Driver fitness, which includes not having the proper licenses, medical cards, or experience.
Controlled substances/alcohol.
Vehicle maintenance.
Hazardous materials, a category in which companies can be punished for not properly packaging, labeling, loading, or understanding regulations related to hazardous materials.
The system also uses data from state crash reports to calculate the crash indicator score, taking into account how often a carrier is involved in a crash and how severe each crash was. Every month, the SMS uses the previous two years' worth of BASIC data and the crash indicator to calculate each carrier's safety rating for each category. It bases the category rating on the number of violations, their severity and when they happened. Recent violations and violations associated with a greater crash risk weigh more. The system places each carrier in a peer group with other carriers that have a similar number of vehicles, inspections, crashes, and other factors – then the system assigns the carrier a percentile. The lower the percentile, the better the safety performance.
The FMCSA has a threshold for each category, and if a carrier's BASIC percentile is above that threshold, it can become a candidate for an intervention. Interventions could take the form of a warning letter, an off-site investigation to review documents related to the carrier's safety performance, or an on-site investigation to examine a specific safety problem.
If the carrier has a long history of safety problems or has a fatal crash on its record, the agency might even do a comprehensive on-site investigation that looks deeper into its overall operations. In any of these cases, carriers have to provide proof that they have made changes, or the agency might call for more interventions.
The vital role of maintenance
Though BASICs encompass everything from cargo securement to a driver's impairment due to controlled substances or alcohol, Commodor Hall, the transportation safety director at the Institute of Scrap Recycling Industries, said one of the main reasons a driver might get a roadside inspection with multiple violations is because he or she is not performing a thorough vehicle inspection.
In 2014, the DOT conducted more than 2.4 million vehicle inspections, which resulted in more than 4 million violations, according to FMCSA data. The most frequent violation was "operating vehicle not having the required operable lamps." Inspectors recorded 565,822 of these violations in 2014, making it 14 percent of all written violations. The second-most-common violation was having clamp or roto-chamber brakes out of alignment (4.98 percent), and the third was having tires with tread depth less than 2/32 of an inch (4.77 percent). Other common violations related to general repair and maintenance parts and accessories include having oil or grease leaks, or having a broken, missing or unsecured fire extinguisher.
Hall said these violations are even more important to prevent now than they were previously. The CSA program's threshold for maintenance violations was 80 percent at the beginning of 2016, but he expects FMCSA to drop it to 75 percent in the coming months. That means there will be less leeway for carriers who want to avoid getting a warning letter or an intervention audit.
It's important to fix things that already are broken or out of alignment, but Hall noted it is just as important to make sure trucks and trailers get regular preventive maintenance. This is especially important in scrapyards, where drivers haul heavy or sharp-edged materials that will create wear and tear on vehicles and wear down tires when the trucks accidentally run over bits of scrap. Consistency and accountability are the keys to staying on top of maintenance, he said, adding that "preventive maintenance doesn't work if it's inconsistent or not done at all."
Working with the right mechanic with the proper know-how sets everyone up for success, especially for specialized maintenance required by law, Hall said. For example, a jack-of-all-trades mechanic might know how to fix skid-steers and other mobile equipment along with trucks and trailers.
It is also important to keep the lines of communication open among drivers, management and mechanics, Hall said. Keep good records of when trucks and trailers get repairs or maintenance, which you can use to show compliance. Records also help keep a truck or trailer from accidentally getting neglected. That record-keeping process involves everyone. "Let's say a driver is doing a pre-trip inspection and notes a defect," Hall said. "Management makes a decision whether it is safe to drive, [or the mechanic needs to make the repair]. The next driver should be verifying that repair was made."
Speeding toward revenue reductions
Experts stress the words "preventive" and "prevention" a lot when talking about the CSA program. That's because so many violations are – you guessed it – easy to prevent. Boebel said drivers who follow the rules of the road make themselves a smaller target for inspections. "The biggest reason in general [that] drivers get pulled over for an inspection is speeding and, to me at least, speeding is wholly, 100 percent preventable," she says.
Lisa Merkle, DOT compliance manager for OmniSource Corp. in Fort Wayne, Ind. added that speeding often opens the door for inspectors to find other things wrong during the traffic stop. "Hypothetically, let's say a driver is traveling down the road going too fast, so, initially, DOT stops him for speeding," Merkle said. "Then, on approach, [the inspector] sees the tire tread is below depth. Then when he reaches the truck, the driver has an attitude," which could prompt the inspector to do an even more in-depth inspection than he or she might otherwise. After all that, the driver "just lost 45 minutes of revenue."
Another preventive measure is to check in with drivers to make sure they are doing proper pre- and post-trip inspections, Boebel noted, and to follow up with them to give refresher training on the best ways to do inspections and address problem areas that need work. "We need to make sure that drivers are sufficiently trained on how to pre-trip the equipment. Making sure lights are all operating and [having] no leaking wheel seals are two gimmes" she said. At Behr, management also pays attention to how long it takes drivers to do those pre- and post-trip inspections. "They shouldn't be taking two minutes. More like 20 minutes, bare minimum," she said. "We also provide tire tread gauges and tire pressure gauges and check [those measurements] once a week. We get flat tires all the time, and we don't want [that] to be the reason for an inspection."
Keeping vehicles clean is another small way to prevent a truck or trailer from standing out to an inspector. Even a dirty license plate might signal to an inspector that something else could be neglected, Merkle noted.
However, though inspections can be time-consuming or stressful, experts say they aren't always a bad thing. The more positive (no-violation) inspections on a carrier's record, the better its safety performance. And if a carrier has some violations on its record, improving its BASICs by having positive inspections will show that the driver and carrier are working to do better.
To improve your chances of a positive inspection, prepare your company and drivers for what to expect, Merkle said. Know what officers will look for. Having all information handy, being polite and cooperative, and keeping the vehicle in the best shape possible will help make an inspection go by much more quickly, and it will show the inspector that the driver and carrier are organized and care about safety, she added.
Doing these things might also affect whether an inspector will choose to do a more detailed inspection or simply examine the driver's paperwork and get back on the road. A Level III inspection mostly requires the driver to show important paperwork such as his or her driver's license, registration, medical certificate, and logbook, all of which can be done fairly quickly. A Level I inspection, in contrast, is the most in-depth and requires the inspector to get underneath the vehicle, which could take an hour or more.
To better understand the inspection process, consider reaching out to local law enforcement and inviting them to talk with drivers at your scrapyard, Boebel suggested. "We brought in state law enforcement in multiple states [where Behr has locations] to perform a CVSA Level I [demonstration] for all of the drivers," she said. The goal was to help drivers understand what the officer was looking for in a roadside inspection, but also to help the drivers feel comfortable asking questions during the meeting that they might not ask during the inspection itself.
Tracking CSA changes and updates
Be sure to monitor your BASIC scores and look for areas where you can improve. Tracking the common problems and finding ways to change behavior starts with good communication. Boebel suggests holding monthly driver meetings to go over the scores and other trucking issues, such as new regulations or new company policies.
"We feel the drivers benefit from these meetings," Boebel said. "They are able to talk about why any violations or warnings were incurred and how to prevent these violations in the future."
Behr makes sure the lines of communication are open among management, drivers and the truck maintenance shop, and the company also has a "reward and consequence" system to keep violations down. Drivers with repeated or egregious violations are put on unpaid leave, but drivers who demonstrate they have gone above and beyond the requirements for clean roadside inspections might get a monetary reward. Drivers also wear lapel pins that indicate the length of time they have gone without a violation or warning.
Also monitor FMCSA announcements about possible changes to the CSA program at csa.fmcsa.dot.gov, where you can sign up for email alerts by clicking "What's New," then "Email Updates."
In January of 2016, FMCSA asked for feedback on possible changes to the way the agency determines a carrier's safety fitness rating. One proposed change is to remove the three safety ratings – satisfactory, conditional or unsatisfactory – and replace them with a single "unfit" rating. Carriers would be assessed monthly, and they would be held to stricter standards for the two BASICs with a higher correlation to crash risk: unsafe driving and hours of service compliance, according to the proposal.
Under the rule, FMCSA estimates it could assess 75,000 carriers a month for safety fitness. Right now, that number is closer to 15,000 a year. If your company has fewer than 11 inspections with violations in two or more BASICs and/or an investigation with no violations cited in the past month, you would not be affected by the proposed rule, it says.
Megan Quinn is reporter/writer for Scrap Magazine, which is published by the Institute of Scrap Recycling Industries. A version of this article originally appeared in the March/April 2016 issue of Scrap. It is reprinted with permission.