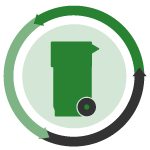 More and more old tires are being recycled, and lithium ion batteries have caused several fires at a Midwest MRF.
Reducing the stockpile: The number of scrap tires stockpiled around the U.S. has decreased more than 93 percent, according to the Rubber Manufacturers Association. In 1990, there were more than 1 billion tires in scrap tire piles around the country. Now there about 70 million.
MRF fires: A MRF in Cincinnati operated by Rumpke has had six fires since the beginning of the year, reports the Cincinnati Business Courier. Rumpke officials blame the fires on lithium ion batteries that break open in the recycling process.
Recycling program ends: After 11 years, a refrigerator recycling program in Austin, Texas is ending, but for a good reason, according to myStatesman.com. The goal of the program was to get old, inefficient refrigerators out of homes and Austin Energy says it has done that, as they received fewer and fewer models each year.
Curbside expansion: Curbside recycling is now available in two subsidized housing complexes in Asheville, N.C., reports Citizen-Times. This follows a successful recycling program in a similar neighborhood last year.
Dirty jokes: A recycling drop-off center in Detroit not only accepts bottles and cans, it also hosts a comedy show once a month, says The Detroit News. The show, called Chuckie Finster, happens after hours the last Saturday of every month.