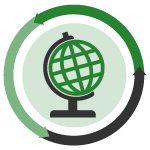 Sweden is considering tax breaks to encourage repair, and a store selling food that's been discarded by supermarkets has opened in the U.K.
Sweden: A proposal in the Swedish parliament would offer tax incentives for those who repair items instead of replace them. One bill allows residents to claim half the cost of labor for repairing large appliances on their income taxes, according to Grist.
England: The Waste and Resources Action Programme (WRAP) has released a framework designed to bring consistency to recycling across England. The goal is for everyone in the country to have the ability to recycle all the same materials by 2025.
China: An article in the Global Times highlights the life of a scavenger. Because many large Chinese cities lack official recycling programs, many people sort through landfills to collect the recyclable items.
U.K.: The first store in the U.K. to sell food that would otherwise go into the waste stream has opened, according to the Independent. The food comes from supermarkets and other businesses. Customers are encouraged to pay what they can.
U.K.: City Councilors in Leeds are encouraging residents to recycle their glass bottles and jars at bottle banks across the city, reports the Yorkshire Evening Post. While residents recycled more than 10,000 tons of glass last year, officials estimate more than 16,000 tons are still going to landfill annually.