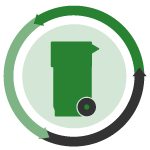 California's recycling goal is under scrutiny, and a major Canadian city is getting out of the collection business.
California dreamin'? California has experienced a setback in its goal to recycle 75 percent of material by 2020. As reported by Mother Jones, the state's recycling rate dropped to 47 percent in 2015 and the amount of material that went to landfill increased by 2 million tons.
Bye-bye collection biz: The City of Vancouver, British Columbia is getting out of the recycling collection business, notes the Vancouver Sun. Starting Oct. 3, Multi-Material BC will take over duties. Multi-Material BC is an organization that works on behalf of paper and packaging producers to fulfill their requirements under British Columbia's extended producer responsibility framework.
Illegal dumping: A Pennsylvania man is accused of illegally dumping C&D material on public and private lands across the state. Lehigh Valley Live says the owner of MS Recycling Inc., Michael Stine, dumped more than 23,000 tons of material.
The Pope on recycling: Pope Francis announced that caring for the environment should be added to the seven works of mercy Christians are asked to perform. The Star Tribune says the Pope outlined how humanity can repay its ecological debt, as well as how individuals can help on a smaller scale.
Zika protection: China is requiring anti-mosquito fumigation treatments on all shipments from the U.S. The Wall Street Journal reports it is an attempt to eliminate mosquito breeding sites and prevent the spread of Zika and other diseases.