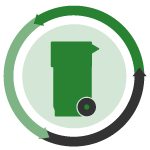 A reporter tests the expiration dates stamped on food, and a curbside recycling contract dispute gets dirty.
Lessons in food waste: A Huffington Post reporter recently profiled her weeklong journey of eating foods that were headed to the garbage or past their expiration dates. Her takeaway? Expired food isn't always tasty, but it won't hurt you either.
Canadian city recycles butts: Montreal has started a cigarette butt recycling program, the third city in Canada to do so, according to the CBC. The organizers of the program say they've collected 10,000 cigarette butts since June and plan to double that by the time the pilot project ends in March. The butts are sent to a TerraCycle plant near Toronto for processing.
Grant to improve rural recycling: The USDA has awarded a grant to the Northeast Resource Recovery Association, a nonprofit organization that assists cities and businesses with their recycling programs. The money will be used to improve composting and plastic film recycling in rural areas.
District, hauler both get dumped: A recycling contract dispute between a hauler and a coastal district in British Columbia got dirty earlier this month when the hauler, Direct Disposal, dumped six or seven truckloads of recyclable material in the yard of the public work's department, according to the Coast Reporter. The two sides were in the middle of a heated contract renegotiation, but two days after the dumping, the district suspended curbside collection service.
Illegal bottle return: A Michigan man has been accused of trying to return more than 10,000 non-redeemable bottles. The Livingston Daily says the bottles were collected in Kentucky and weren't eligible for redemption in Michigan. The man faces five years in prison.