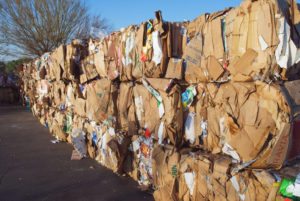 The U.S. recovery rate for old corrugated containers hit 92.9 percent in 2015, according to the Corrugated Packaging Alliance.
That number is up 3.7 percentage points from the year before and is the highest rate ever recorded for the material, a fact driven both by an increase in domestic consumption and by OCC exports.
A total of 31.3 million tons were recovered in 2015, up 5.7 percent from the volume recovered the year before.
According to a Corrugated Packaging Alliance (CPA) press release, just over half (51.0 percent) of the recovered OCC was used to make new containerboard for more corrugated boxes, which contain an average of 50 percent recycled content.
Another 11.5 percent was used to make boxboard for packaging like cereal boxes, and 32 percent was exported. The remainder (5.5 percent) went to other uses.
The OCC recovery rate has been climbing steadily since the 1990s. The "Corrugated Recycles" symbol was first introduced in 1994 in the U.S. and is now printed on a majority of corrugated packaging.
The CPA is jointly sponsored by the following industry groups: American Forest & Paper Association (AF&PA), Association of Independent Corrugated Converters, the Fibre Box Association (FBA) and the Technical Association of the Pulp and Paper Industry (TAPPI).
The recovery rate data comes from an annual industry survey from the AF&PA.