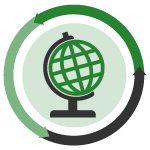 One publication examines what a "Brexit" could mean for waste diversion efforts in the U.K., and Unifi expands global distributions of its recycled-content fiber.
United Kingdom: Recycling and Waste World takes a look at what Britain's exit from the European Union could mean for circular economy efforts in the country. While much is unknown, some experts contend the European Union has been an important driver of waste diversion and recycling efforts across the continent, and the United Kingdom is unlikely to approach the issue as aggressively on its own. U.K. voters on June 23 will weight in on whether the country will leave the EU.
Sri Lanka: Unifi Inc. is expanding its global distribution of recycled plastic fabrics by opening a new division in Sri Lanka, called Unifi Textiles Colombo Private Limited. The North Carolina-based company produces the Repreve recycled-content fiber, used in a variety of clothing and other fabric products.
Europe: A report says the European Union should consider recycling targets based on each country's unique conditions, as opposed to blanket targets. The report, from the Impact Assessment Institute, said plans for a 65 percent recycling rate by 2030 across the EU don't take into account varying levels of progress in different countries. Details are available at letsrecycle.com.