This story originally appeared in the May 2016 issue of Resource Recycling. 
Subscribe today for access to all print content.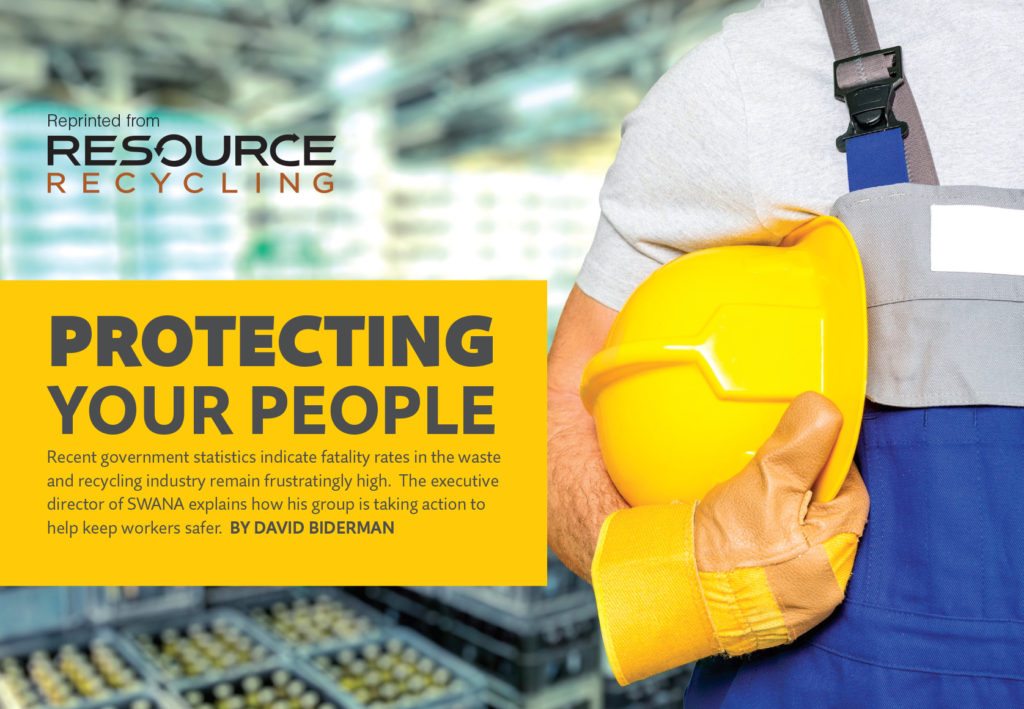 In autumn 2015, the federal government delivered analysis many waste industry leaders and safety professionals had been dreading: the annual report cards on the previous year's safety performance.
Once again, the news wasn't good, with trend lines moving in the wrong direction.
First was the annual workplace fatality report from the U.S. Bureau of Labor Statistics (BLS), which was released in September 2015. For the second consecutive year, waste and recyclable collection employees were reported as having the fifth-highest worker fatality rate for all occupational categories (see chart on page 37).
Despite a slight drop in the number of actual employee deaths, the fatality rate for this category of employees increased in 2014, and it is now more than 10 times the average fatality rate for all U.S. workers. In addition, according to the BLS figures, a disproportionate number of the fatalities occurred at small employers, mostly private-sector haulers.
About a month later, BLS issued its annual report on workplace injuries and illnesses. According to BLS, the injury/illness rate for solid waste collection employees – the category includes recycling workers – increased by more than 10 percent from 2013 to 2014, and it is now at its highest level since 2008. The injury/illness rate for materials recovery facility (MRF) employees continues to be high, more than double the rate reported in 2010. The only good news in the BLS report was the continued slow and steady decline in the injury/illness rate for landfill workers.
Since those reports were issued, the industry has experienced a relentless and steady stream of fatal accidents involving employees and vehicles. For example, there were 10 fatal incidents in the U.S. in March 2016, including one at a MRF in Philadelphia. These incidents have involved both public- and private-sector employees, and they've occurred at companies both large and small.
Clearly, the industry needs to find a practical way to respond to this troubling issue of danger on the job.
Risks around every corner
To start, we have to understand it is not surprising that collecting, processing and disposing of our trash and recyclables poses a variety of safety hazards. Collecting waste often involves moving or lifting heavy containers, stepping on or off the riding step of a truck, working in traffic among often-distracted motorists, and completing tasks in all weather conditions.
Furthermore, the waste itself may contain sharp objects that pose a hazard to anyone not wearing proper personal protective equipment (PPE). And attention must be paid at all times by the driver and helper to avoid accidents or injuries.
In addition to worker safety, the waste industry needs to be concerned about public safety and awareness. Other drivers, bicyclists and pedestrians are frequently killed or injured in collisions with waste collection vehicles. On average, nearly two people a week are killed in such accidents. In many of these tragic incidents it is the driver of the other vehicle that crosses the center line and has a head-on collision with a collection truck or who crashes into the back of a stopped collection vehicle. Distracted drivers, speeding drivers, and those with medical issues often sit at the root of accidents that place themselves and waste and recycling workers at risk.
Of course, hazards also exist at post-collection facilities such as transfer stations, MRFs and landfills. In these environments, workers are exposed to a number of potentially dangerous factors: trucks and mobile equipment (both large and small), processing systems (including balers and conveyors with moving parts), and piles of loose waste or stacks of baled materials.
Despite these risks, the fatality and injury/illness rates for the industry generally declined from 1999 to 2009 – good operating practices confine customers and materials to small tipping floors and working faces, and perhaps well-run operations led to fewer incidents. But the number of injuries and fatalities began to rise again thereafter.
Expanding programming to address the problem
The Solid Waste Association of North America (SWANA), which represents more than 8,300 individuals in the public and private sectors in the U.S. and Canada, was established more than 50 years ago to focus on safety issues. Although many topics and issues have come and gone over the years, the BLS statistics confirm that the organization's concern for worker safety can't drop from its active focus and in fact must be re-emphasized.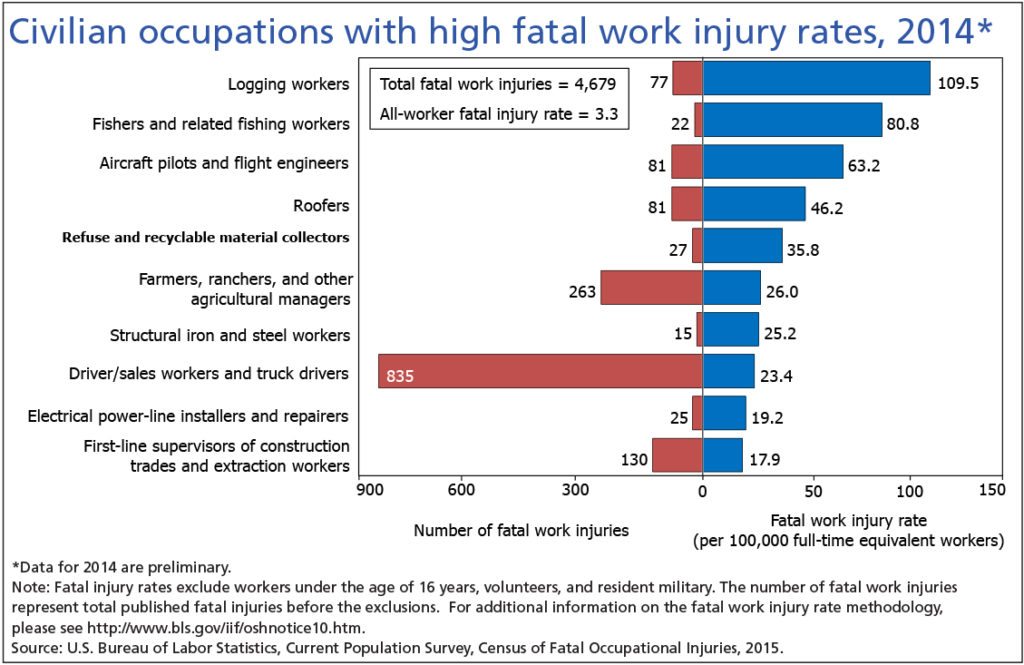 In recognition of this, over the past year, SWANA has significantly expanded its safety programming. New events and resources provided by SWANA include the following:
A safety website offering information and resources – view it at swana.org/safety
Safety posters (available in English and Spanish)
Safety-specific webinars
Expansion of the annual Safety Summit held at Wastecon, SWANA's annual conference, to include more sessions and speakers in larger forums to reach significantly more attendees
A weekly safety bulletin that is emailed to all association members
Sharing information about fatalities and related news with chapters
Distribution of free "Slow Down to Get Around" (SDTGA) stickers and supporting the enactment of SDTGA laws. These laws increase the penalties for motorists who drive into a waste collection vehicle or do not provide sufficient space for garbage trucks
The creation of safety awards to recognize leaders in the industry
SWANA recognizes that the scope of the safety issue in the waste industry is exceptionally broad. For that reason, SWANA is working with other associations, local governments, private companies and others to develop best practices, provide education and communicate safety messages. SWANA believes the safety of employees and the public is a goal that overrides the considerations of public- and private-sector competition.
In addition, SWANA has rolled out a Safety Ambassador initiative, through which most of the association's 45 chapters have recently elected or appointed someone to serve. These Safety Ambassadors have become the point people for safety inquiries, data and training in their respective SWANA chapters in the U.S. and Canada. Having a local, knowledgeable resource helps move the emphasis on changing the safety culture closer to home and increases the likelihood of safety initiatives being effective. This local focus is particularly important for smaller and public employers.
SWANA provided its Safety Ambassadors with initial training in early 2016, and these individuals will meet at Wastecon in Indianapolis in August. Several Safety Ambassadors have been very active in early 2016, communicating with chapter members about recent incidents, and several are speaking at chapter events.
In addition, SWANA intends to start collecting and analyzing safety data for the first time. Although the BLS data provide some useful information, the bureau's numbers do not provide sufficient guidance to public officials to determine whether a municipality's safety performance is above or below average, and they do not fully identify the types of accidents or injuries stakeholders need to address.
SWANA is asking its municipal members to provide 2015 accident and injury data, on a confidential basis, for aggregation and analysis. We expect to circulate a simple survey this spring, and contributing members will receive a detailed analysis of the overall results, which will allow them to compare their safety performance to a municipal median or average. We also intend to report on the findings at Wastecon.
I strongly urge SWANA members to participate in this data collection initiative.
The industry's top concern
The initial response to SWANA's new safety initiatives has been overwhelmingly positive. In my visits to chapter conferences and industry events, SWANA members and others expressed excitement about our increased focus on reducing accidents and injuries.
Such support for an enhanced focus on injury and accident prevention makes sense. Although it may take several years to see a meaningful decline in the industry's fatality and injury rates, building the culture, the partnerships and the safety champions throughout the industry must be a top priority for all of us. Nothing we do could be more important.
David Biderman is the executive director and CEO of the Solid Waste Association of North America (SWANA). He can be contacted at [email protected].