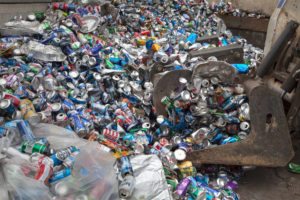 Wyoming is renowned for its cowpokes, but the results from a recent aluminum recycling competition show students in the state also excel in another type of roundup.
Two small schools in the least populous U.S. state collected the most aluminum cans per capita during an annual recycling initiative that ranks the efforts of participating schools across the nation.
Riverton Alternative High School in Riverton, Wyo. took first place in the competition, with 22 students collecting an average of 400 pounds of aluminum beverage cans each. Taking second place was Roosevelt Learning Center of Rock Springs, Wyo. At Roosevelt, 14 students collected more than 157 pounds each.
The Great American Can Roundup, which began on America Recycles Day (Nov. 15, 2015) and ran through Earth Day (April 22), was sponsored by the Can Manufacturers Institute (CMI).
The Cowboy State was well represented last year as well. Students at Valley Elementary School in Cody, Wyo. collected more than 2,200 pounds of aluminum cans each to take top honors in the 2014-2015 event.
"Students participating in the CMI recycling challenge are learning the importance of recycling and the integral part it plays in the environment," Robert Budway, CMI president, stated in a press release. "They also learn the value of aluminum cans, which stems from [the material's] unique characteristic of being 100 percent recyclable."
Schools from 35 states collected a total of more than 146,500 pounds of aluminum cans for recycling in the 2015-2016 roundup, according to CMI.