This story originally appeared in the February 2016 issue of Resource Recycling.
Subscribe today for access to all print content.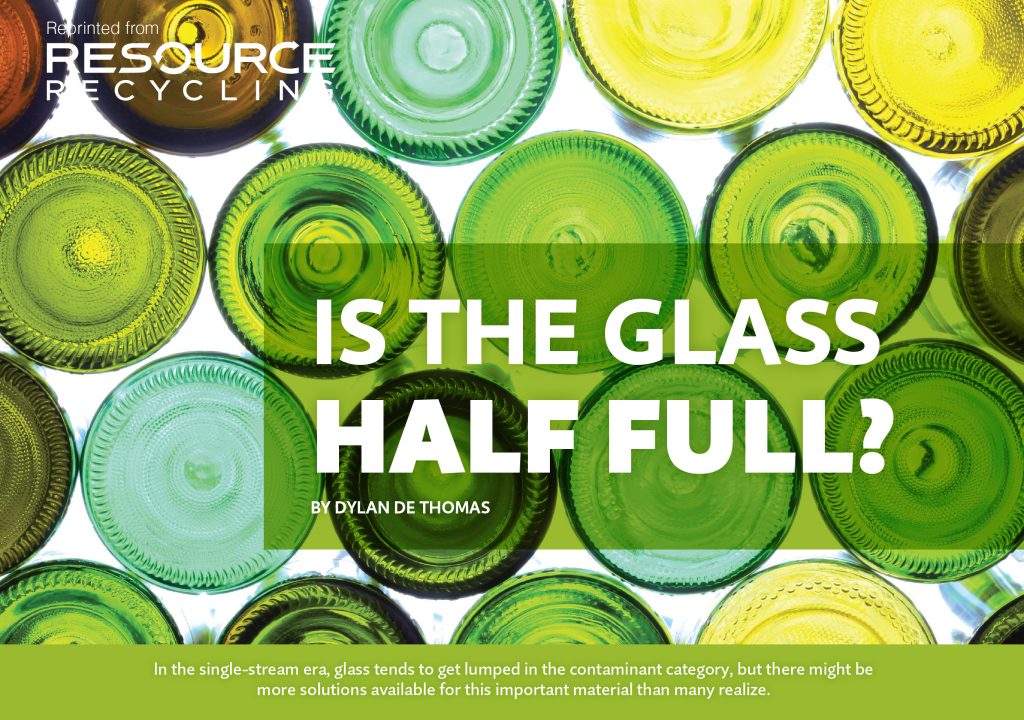 Recycling had a bit of a public relations problem in 2015 – for a stretch there it seemed as though a month didn't go by without someone taking a swipe at the industry. With commodities markets struggling, the time was ripe for New York Times columnist John Tierney and many others to wonder about the value of recycling anything other than aluminum beverage containers and old corrugated cardboard. The sky was falling and no one was shy about saying so. And many were quick to blame glass.
In part because of the explosive growth of single-stream recycling collection around the country, as well as due to the way many materials recovery facilities (MRFs) are set up, glass can have a deleterious effect on both processing equipment and the other materials being processed, particularly fiber. Depending on how its collected and processed, in many communities, glass containers are considered a nuisance.
However, the recovery of glass containers is an integral part of recycling programs throughout the country and has been for decades. It's also a key component of many community and state recovery rate goals, making up 34 percent of the municipal solid waste stream by weight, according to U.S. EPA figures.
The nuts and bolts
While recycling glass may not garner the same greenhouse gas savings achieved by recycling other materials, there are still tangible benefits of replacing virgin materials with cullet. Container glass is made up of silica (around 70 percent), soda ash (10-15 percent) and limestone (10-15 percent), all of which are mined, with additives and colorants making up the remainder of the material.
According to data from a sustainability report from glass manufacturer Owens-Illinois, for every 10 percent of recycled glass used in the manufacturing process there is an attendant 2 to 3 percent drop in plant energy costs (due to the lower melting point of cullet over virgin materials) and a 4 to 10 percent reduction in GHG emissions, per plant.
Depending on the facility, this recipe can also contain a high percentage of cullet. This cullet must be clean and free of contaminants, such as pebbles or other materials, but also ceramics or non-container glass. Even small amounts of contaminants can ruin the production of new containers at a glass facility. The same is true for the manufacturing of fiberglass, the other primary market for recovered cullet.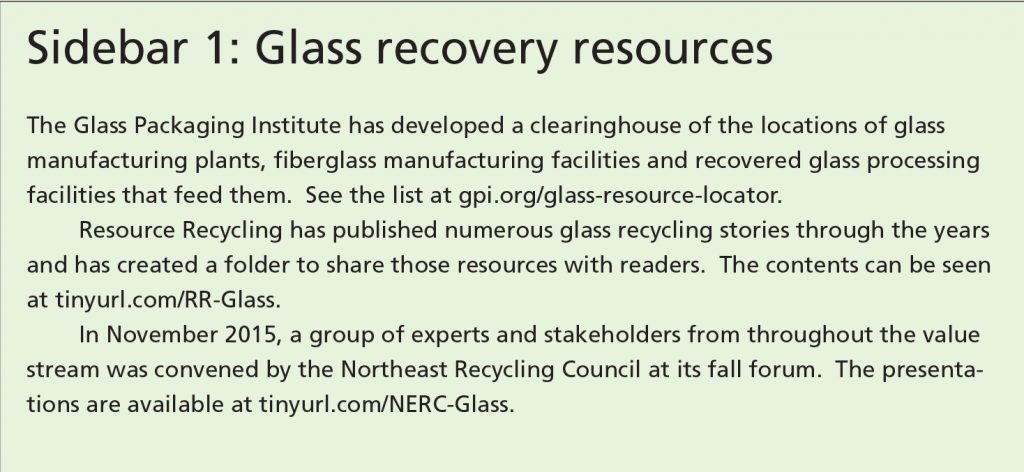 Hitting the purity levels required by these manufacturers can be a challenge for MRFs processing single-stream collected recyclables. Secondary glass processing is therefore necessary to take glass from MRFs and have it be made into a new product.
Processing innovations
Glass beneficiation firms such as Carry-All Products, Momentum Recycling, Reflective Recycling and Strategic Materials have considerable investments in areas around the country (see Sidebar 1 for more). These companies are able to sell to both glass manufacturers and insulation companies for use in fiberglass production.
Numerous technological solutions, including optical sortation and air and density separation, are available to clean MRF cullet, and all of the major recovery facility equipment producers (Bulk Handling Systems, CP Group, Van Dyk Recycling Solutions) offer their own glass beneficiation equipment or have partnered with other manufacturers (Machinex with Krysteline Technologies) that specialize in glass clean-up equipment.
There are also numerous equipment manufacturers (Andela Products, BT-Wolfgang Binder, C.S. Bell Co., General Kinematics, Glass Aggregate Systems) that produce stand-alone systems for cleaning glass.
With the challenges of using single-stream-collected glass, different communities around the country have developed alternative ways of collection with some success. Below are some examples.
Kansas City, Mo. – Ripple Glass has over 100 drop-off locations around the city, collecting approximately 37,000 tons of glass annually, with a 98 percent recovery rate for the material collected. The overall recovery rate for glass in Kansas City went from 5 percent to 20 percent over the last several years, according to Ripple, which began operating in 2009.
Portland, Ore. – In Portland, a "single-stream plus" system is used, with residential collection of container glass collected in a separate bin residents place next to the rollcarts used to collect commingled recyclables. While some glass can still be found in the commingled materials at Portland-area MRFs, volumes are greatly reduced. Oregon also is one of 10 states with a beverage container redemption program. This reality keeps a great deal of glass out of curbside programs across the Beaver State (See Sidebar 2).
Salt Lake City – In Utah's largest city, Momentum Recycling offers separate subscription-based collection for $7 a month, with rollcarts provided by the company. This curbside program is supplemented by almost 60 drop-off containers located around the city. The company is also building a processing facility in Denver, slated to open later this year.
A glittering example
One company, Rumpke Consolidated Co., has helped push forward residential glass collection by taking an integrated approach to glass recovery. The company has a strong regional presence in the Midwest and is vertically integrated – in areas in which it operates, the company controls hauling, processing and disposal, with eight recycling facilities and nine landfills in Indiana, Kentucky, Ohio and West Virginia.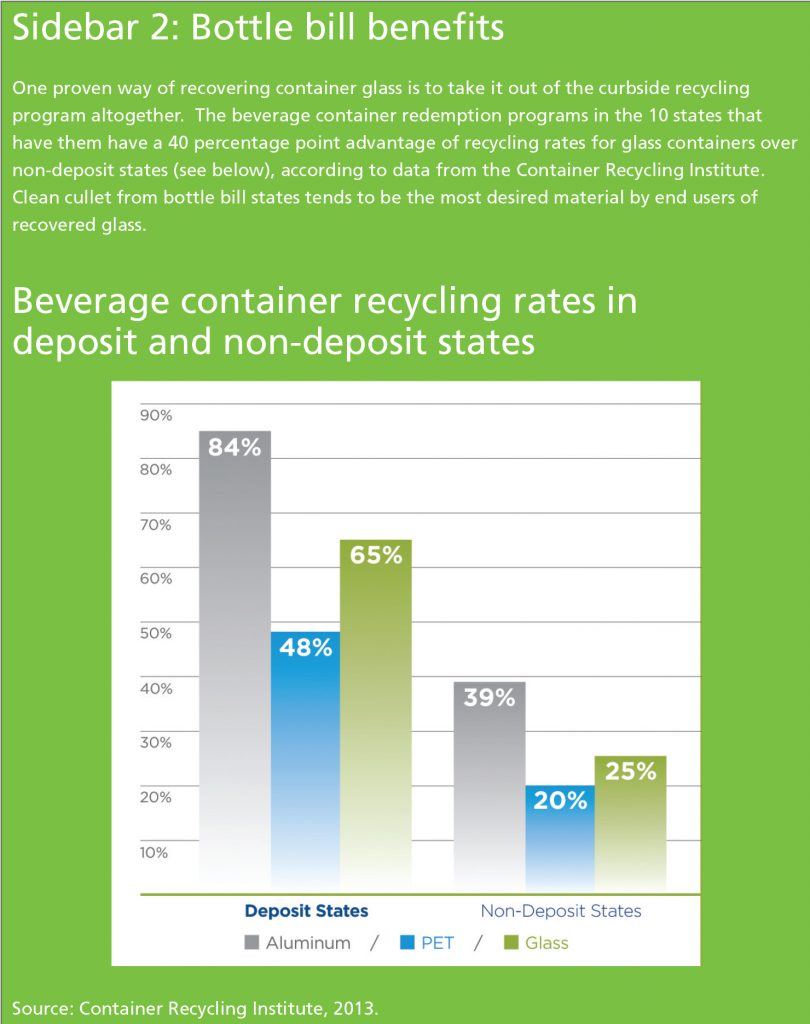 In the early 2000s, as single-stream collection took over, the company found glass was making up an estimated 15-20 percent of materials coming into its MRFs. After some initial success making a fine-grind product from the recovered material, primarily sold into the fiberglass market, the company looked to boost its processing capacity.
In 2010, Rumpke signed an agreement with Owens-Illinois and was given a $500,000 grant from the Ohio Department of Natural Resources. Rumpke ultimately invested in a $4.1 million upgrade to its Dayton, Ohio glass processing operations.
In the wake of that move, Rumpke is able to sell into different markets. Buyers include Owens-Illinois, where the cullet is made into new containers, as well as Owens Corning and Johns Manville, both of which make fiberglass insulation from the recovered material.
Increased industry involvement
Another positive development in glass recycling is the increased engagement of many throughout the recycling and glass industries. Industry players large and small are working to find solutions for the material.
The Glass Packaging Institute (GPI) is working with the Institute of Scrap Recycling Industries to develop new specification for glass coming out of MRFs. GPI is also looking to improve market options by facilitating connections between disparate producers and consumers.
In addition, The Recycling Partnership recently announced Heineken USA as a member of the recycling-boosting group, making glass another focus material. "Glass is a tricky commodity, but I think we'll be able to dig in with Heineken to find out what best management practices are for improving glass recycling," Cody Marshall, technical assistance director at The Recycling Partnership, told Resource Recycling when the sponsorship was announced in late 2015.
The Closed Loop Fund has also identified glass as a material to target for infrastructure improvement. While specific investments have yet to be made, the group is looking closely at recovered glass usage in cement, or "glasscrete," as a large potential future market.
Consumption for growth
The efforts described above will combine with existing initiatives from numerous traditional glass consumers. Supported by sustainability goals, as well as the cost benefits of using cullet, all glass container manufacturers have at least some recovered-glass usage goals.
Dedication to glass recovery from individual companies and industries could also be bolstered by legislative actions. California's carbon cap-and-trade program and potential extended producer responsibility legislation for packaging in British Columbia and elsewhere certainly have glass recycling repercussions. In such an environment, the future for glass recycling might not be half empty after all.