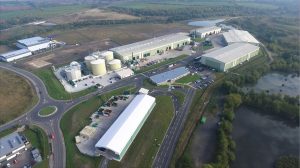 Machinex has installed two sortation lines at a facility in the U.K.: one taking in single-stream-collected materials and the other separating recyclables from trash.
The Quebec, Canada-based equipment company installed lines at a new facility in Wakefield, just south of the city of Leeds. The facility, operated by Shanks Waste Management, is capable of sorting more than 250,000 short tons per year of MSW and single-stream recycling from residential and commercial sources.
"This is one of the most sophisticated waste-to-product facilities in the U.K., and it will increase significantly the recycling rate of Wakefield district while diverting around 95 percent of the waste away from landfill," according to a Machinex press release.
The single-stream system will sort about 40,000 tons per year – or more than 20 tons per hour – of mixed dry recyclable materials, including plastic, glass, metals, paper and cardboard. Machinex screens, optical sorters, a glass cleanup system, air capture system for films, magnets and eddy-current separators will result in a 95 percent pure stream, according to the company.
Meanwhile, the mixed-waste line from Machinex will separate materials from household garbage at a rate of about 33 tons per hour. The goal of the system is to create a clean stream meeting refuse-derived fuel (RDF) standards.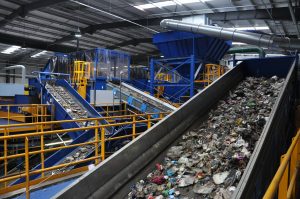 To do this, organics will be removed from the stream via a vibratory screen and then treated in an autoclave before being sent to an anaerobic digester. Ferrous and non-ferrous metals, films, paper and other plastics will be sorted out using a combination of air treatment systems, ballistic separators, optical sortation units, magnets, eddy-current separators and other sortation equipment, according to Machinex.
Low-value plastics and fibers will remain and make up the RDF.
"The solution proposed by Machinex allowing flexibility remains an important aspect since the plant operator can select the most appropriate recyclates to be recovered according to market values and the desired calorific value of the RDF generated," the press release stated.