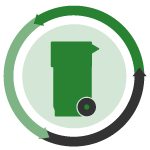 A MRF worker saves the life of a kitten, and the trend of container lightweighting comes to glass.
We've heard a lot about plastic container lightweighting, but U.K. company Adnams of Southwold and Owens-Illinois have developed a lighter, branded glass beer bottle, according FDbusiness.com. At 280 grams, the bottle is lighter than than a lightweighted bottle the companies launched in 2007.
New York's governor signed a bill aimed at combating fake charities collecting textiles via public collection bins. The bill, A.5317, prohibits collection bins on public property, requires maintenance of the bins and mandates disclosures about whether the donation is supporting a nonprofit- or for-profit organization.
A Northern California MRF worker saved the life of a kitten he found rolling along a conveyor belt among recyclable materials. The New York Post reports the worker in Galt snapped up the feline, which was ultimately adopted by another worker.
Since March, consultants at Resource Recycling Systems have been providing informative charts and data to the print edition of the monthly Resource Recycling magazine. To take a look at an archive of those contributions, click here, and continue to look out for more of the same in our magazine in 2016.
The US Composting Council announced its support for a food recovery and composting incentive bill in Congress. The group is supporting the bill after it was endorsed by its Legislative and Environmental Affairs Committee
The newspaper box on the street reads "New York Com Post," and, instead of selling newspapers, it accepts food scraps. Inhabitat.com reports on the guerilla effort to collect food scraps as part of the New York Compost Box Project.
Residents of the Japanese town of Kamikatsu sort their materials into 34 different categories as part of a push eliminate all waste from the town, citylab.com reports. The effort – and for residents, it's quite an effort – is proving successful: The recycling rate for the town of 1,700 people is currently 80 percent.
Augusta, Maine city leaders voted to eliminate the city's monthly dual-stream curbside collections and, for the time being, rely on single-stream drop-off locations around town, centralmaine.com reports. City Council members made the decision in part due to an aging recycling truck and a service that accepts limited materials and is being used less and less in favor of the drop-off locations.