A comprehensive study of Canadian e-scrap generation found that the amount has more than tripled over the last two decades and is on track for even more growth in the coming years.
Researchers at the University of Waterloo said the study, which is one of the most recent and far-reaching, should help policymakers address the problem. They suggested improving repair, refurbishment and product life extension opportunities along with improving recycling and material recovery.
Lead author Komal Habib, a professor in the School of Environment, Enterprise and Development, said in a university press release that the study "provides useful insights to policymakers for setting up targets for e-waste reduction and recycling to recover valuable resources from e-waste."
"E-waste could also help to create a secondary supply chain of critical materials, reducing the risks of potential supply disruptions," Habib added.
Research details
The study was published in the Journal of Hazardous Materials. It looked at 51 product categories with 198 product types from 1971 to 2030, including white goods.
The researchers estimated that across that 60-year period, the total mass of e-scrap generated would be 42.3 million metric tons (about 46.2 million short tons), with an annual average growth rate of approximately 0.5%.
Per capita, generation increased from 18.3 pounds in 2000 to 55.8 pounds in 2020. It's estimated to hit 69.4 pounds per capita by 2030.
"Over the last two decades, human society has moved towards a drastic digitization with the help of revolutionary technological advancements, transitioning industries towards automation while also escalating the possibilities of living in online worlds," the study noted. "This transition has been a result of the ever-increasing use of electrical and electronic equipment (EEE), making them a blessing as well as a curse."
Recent rapid advancement has also led to significantly shorter device lifespans, the study noted, and Canada does not have national legislation for e-scrap management. All but one of its provinces and territories do have regulations and industry-managed programs.
Canada's population has steadily increased as well, which also contributes to the rising mass of e-scrap, the press release noted.
Per capita, e-scrap generation in Canada increased from 18.3 pounds in 2000 to 55.8 pounds in 2020.
The study found that large household appliances make up the largest segment of the total e-scrap by mass, but by quantity, household lighting was the most frequent item, followed by toys and sports equipment and information technology and telecommunications equipment.
"There are pros and cons of the expected increase in e-waste for the recycling industry," the press release noted. "When it comes to IT and telecommunication equipment, the industry's efforts to make lightweight products are leading to the dilution of precious and critical materials per product, creating a challenge for recyclers to recover. However, increasing quantities of this e-waste could lead to potential incentives for the continuous operation of the recycling industries."
The researchers said a future study assessing consumer behavior data is necessary to create better sustainable management practices.
More stories about Canada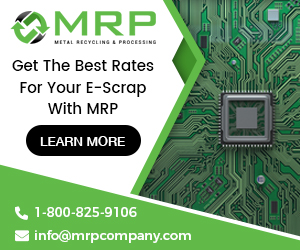 [/vc_column_inner]