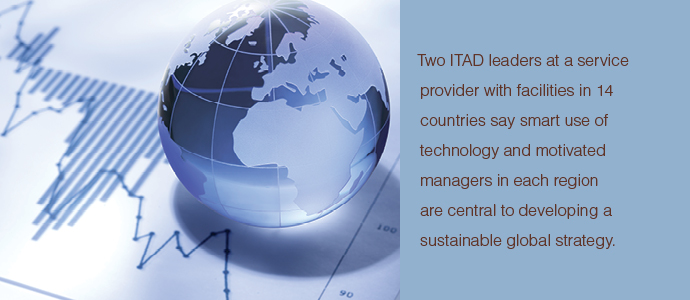 This article originally appeared in the Spring 2021 issue of E-Scrap News. Subscribe today for access to all print content.
Many companies in the ITAD sector are searching for the best way to expand into international markets. For Ingram Micro, the playbook is clear: Follow the flow of new hardware.
In late 2020, Ingram Micro Commerce and Lifecycle Services announced it had opened an IT asset disposition operation in Mexico City, the company's fourth such site in Latin America (operations were already active in Brazil, Colombia and Peru). Ingram Micro, a massive electronics distributor that entered ITAD in a major way through the acquisition of CloudBlue Technologies in 2013, now has an international ITAD network that includes 21 facilities across 14 countries.
With that much global traction, the path to expansion has become streamlined, Ingram Micro's top ITAD executive said.
"We've done this playbook over several countries in the last seven years," said Todd Zegers, Ingram Micro's global vice president of ITAD and reverse logistics. "So we know how the steps go."
E-Scrap News recently talked with Zegers and Martin Garcia-Brosa, Ingram Micro's executive managing director for Latin America, to learn more about that playbook and the global market in general.
E-Scrap News: Your Mexico ITAD operation is being run out of an existing Ingram Micro distribution site in Mexico City. Tell me about the decision to add material disposition services there.
Todd Zegers: We started doing reverse logistics for one of our e-commerce returns customers around a variety of devices. And in that process we used our core system called BlueIQ, which we use in all ITAD operations around the world. Because we were able to get BlueIQ set up there for one large customer, it made a lot of sense for us to set up a pure ITAD site there as well because it's the same system. We're following where we have a large distribution model. So in the U.S. we do about $17 billion worth of hardware distribution annually, and in Mexico it's about $1 billion. We know if we're doing $1 billion in distribution sales, we likely have the critical mass we need for an ITAD site because we'll service the people buying those products.
What are the details on the BlueIQ system?
Zegers: It's a warehouse management system on steroids and really is the backbone of everything we do. So from the time a customer places an order from the client portal, then scheduling all the logistics, then all the data we capture, whether it be on-site shredding or scanning – all that is fed back into BlueIQ, which the customer can access in real time back on the client portal. And all the customer's financials – the fee structure, service fee, transportation fee, the revenue share they get on the products – is all captured in there.
You've noted that the software connects across all your facilities. So is it essentially constantly updating as you process assets?
Zegers: The secret sauce is the logic we've built over the years. We try to take as much as we can out of the operators' hands. When a device shows up, if it's a laptop that we know has market value, the system tells the operator where to move that device next. It goes into a review status and the remarketing team will say, "Yeah, that has value, change the logic to make sure we test and wipe and make it ready to sell." So the next time that device comes in, there is already a system built for the way that flows. And we've got it built in multi-currency, multi-language so it can be used as we deploy to other countries. And again, it's cloud based, so we can deploy it in Australia or Singapore or wherever we want on day one of a new site.
How is ITAD evolving in the wider Latin America market?
Martin Garcia-Brosa: It's important to understand Latin America is a multitude of countries. It cannot be addressed as just one location. To start with, there has to be a local team and local business development, so actual sales people working in each country – they coordinate with the global team, but it has to be organized locally. Secondly, the requirements in Mexico City are going to be completely different than requirements in, say, Santiago, Chile. But in parallel there has to be strategy for the whole region, and within that, there has to be prioritization because it is impossible to do everything at the same time. What we've been doing with Todd over the last couple of years is prioritizing the different countries based on size and opportunity and customer requirements. We're established in Brazil, Mexico, Colombia, Peru and the next one is going to be Chile. The expectation is we'll be setting up Chile in 2021.
What was the experience like bringing the Mexico City operation on-line amid the pandemic?
Garcia-Brosa: When we started to do implementation, COVID essentially hit. The majority of implementation has been done remotely. It has been equally effective, though it has probably taken a little longer than it normally does. There were more shifts, with fewer people per shift and social distancing and sanitation. The global team from the U.S. and Europe connected with us on periodic calls, including project managers located locally and remotely. We went live around the start of November, and since then, we've been operating smoothly.
How would you describe Ingram Micro's wider global strategy?
Zegers: We're in the place now where we're serving the largest enterprise companies on the planet. We're very engaged with the largest OEMs to serve them. The only way you're going to get into those conversations is if you have a large global presence, so our number one strategic advantage is having a large global footprint and having Ingram Micro's name behind us. Having that global footprint and system really allows us to pursue any client out there.
Are there any downsides to having such an expansive footprint?
Zegers: Where we don't play well sometimes is with the small or medium-sized customer. Those guys are a little more cost-conscious, and they don't have quite the same security or compliance concerns that a larger organization has. And let's face it: We're not the cheapest guy on the block to work with. We'll continue to expand, but it's not any more complex than we'll go where our customers need us to go if it makes sense. We look where we see large volumes of distribution and try to patch through that.
How does certification play into your global structure?
Zegers: Globally, we are e-Stewards Committed, meaning all of our sites internationally will be e-Stewards certified, which brings some challenges now with COVID. We operate in 14 countries now. We're certified in the U.S., Germany and Brazil. There are four or five scheduled to be certified in 2021 and the remaining in 2022.
Looking out over the next few years, do you anticipate expanding further. And if so, where?
Zegers: Latin America we're kind rounding out. But then looking to Asia, India and China stand out as really the biggest opportunities out there. We've got two operations now in India. We've got operations in Singapore. And two in China – one in Shanghai and one in Beijing. Those two countries are two of our fastest growing businesses. For future investment, Hong Kong will be one of our next stops and then also Australia and New Zealand.
What about the Middle East?
Zegers: Dubai would be somewhere we are looking at. But most of Ingram Micro's distribution business in the Middle East is advanced solutions, so higher-end servers and storage networking stuff – not a lot of distributed assets.
With so many moving parts across the planet, how do you keep everything moving in a coordinated direction?
Zegers: It sounds cliche, but we really do have amazing people. Martin, for instance: He wanted to proactively get involved in ITAD even before we started pushing into Latin America because he understands logistics and reverse logistics and technology in general. He saw the opportunity and wanted to take it and run with it. We've got the same thing both in Europe and the Asia-Pacific. Our operational leaders who manage those regions, they lived in airplanes and hotels for the last few years. Thakfully they did, because they had a year-and-half or two years of time getting those operations set up. Trying to do that now would be hard. Having people who understand the local business dynamics as well as the culture and language is obviously a big thing as well. Martin's understanding of how business is done in each of these countries is really astonishing. We see a lot of that from other locations around the world. It's as simple as having good people. But if you don't also have the right processes and systems to back up the people, that's where you fail.
Dan Leif is the managing editor of E-Scrap News and can be contacted at [email protected].