E-End doesn't just protect its clients by destroying data. The company plays a role in protecting national security by destroying weapons and other military-related hardware.
In addition to processing consumer and IT electronics, the Maryland-based company destroys items such as weapons, body armor, bomb suits, radar units and other controlled devices, said Steve Chafitz, president of e-End.
The processor is compliant with International Traffic in Arms Regulations (ITAR), which controls the export of military- and defense-related technologies. As a result, it is able to destroy equipment on behalf of government agencies and defense contractors.
Based in a 20,000-square-foot space in Frederick, Md., which is in western Maryland, e-End is capable of processing over 2 million pounds per year. In terms of hard drive destruction, specifically, the company can process over 200,000 drives per year.
The company takes in material from residential, business and institutional sources. Chafitz noted it excels in decommissioning data centers, for example.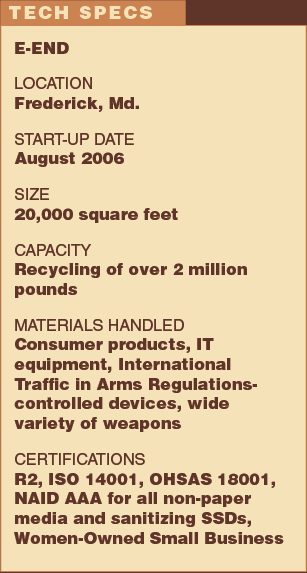 Devices that can't be reused are manually disassembled and sorted into commodities. The company degausses and/or shreds magnetic media, shreds solid-state media and incinerates optical and film media. Processing equipment used by e-End for data destruction includes two large hard drive shredders, a hydraulic shear and two degaussers that are listed on the National Security Agency's Evaluated Products List.
The processor also has a robust reuse business. A Microsoft-registered refurbisher, e-End refurbishes and sells a wide variety of IT equipment, listing products on its e-commerce site. The company's IT specialists can test thousands of laptops per day.
The company was also one of the first to obtain National Association for Information Destruction (NAID) certification for solid-state drive wiping.
Like other electronics recycling companies, e-End has been affected by the coronavirus pandemic. Although it was allowed to remain open because it was considered an essential business, the company chose to shut down for several weeks in the spring to protect its employees. During that time, it continued to perform ITAR equipment and weapons destruction.
"When all non-essential businesses had to close, most of our clients closed their main facilities and their employees worked remotely," Chafitz said. "With their facilities closed, our services to our clients were reduced significantly."
E-End obtained a six-figure Paycheck Protection Program (PPP) loan, which allowed it to retain all of its 20 employees.
Since then, the company has experienced a strong rebound, Chafitz said. "Business with our clients has resumed and revenue and profits are very strong," he said.
This article originally appeared in the Fall 2020 issue of E-Scrap News. Subscribe today for access to all print content.
Do you know of a processing company that should be featured in this column? Email [email protected]