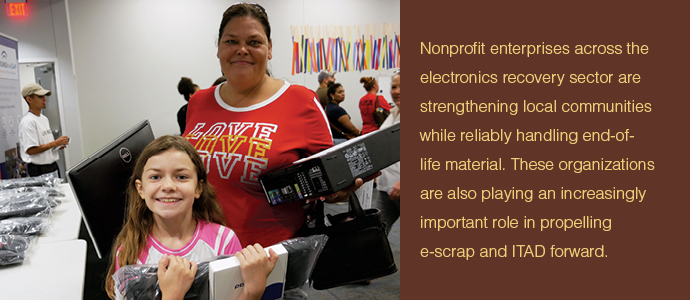 This article originally appeared in the Winter 2019-2020 issue of E-Scrap News. Subscribe today for access to all print content.
Community is the bottom line
A well-established operator in the Southeast has found financial success by focusing on giving back.
Giving away products and profits may not strike the average CEO as a sound strategy for business success, but it can pay some healthy dividends.
Just ask Larry Herst, who founded nonprofit electronics recycling and reuse business Triangle Ecycling in 2011. Over the years, the Durham, N.C. organization has grown its workforce, customer base and community support programs.
"I've practiced law for many years and ran other businesses – for-profit businesses – and what I've really learned is that the more a company gives back to its community, the better it does," said Herst, the CEO of Triangle Ecycling. "And the more it incorporates that into its culture, the happier the people who work at the company are."
Growing the business
After a career working as a lawyer, Herst founded the nonprofit group eight years ago. As equipment came in the door, a friend who ran a computer shop told him a lot of it was worth refurbishing, rather than simply recycling.
His first employee worked part time refurbishing computers, Herst said. Since then, both the refurbishment and recycling sides of the business have grown, and the first employee is now the head tech running an internship program and teaching digital literacy classes. Today, Triangle Ecycling's 10 employees recycle about 100 tons of e-scrap and refurbish hundreds of computers a month, Herst said.
Triangle Ecycling receives scrap electronics from consumers and provides ITAD services for businesses, which tend to generate equipment that's more re-marketable than consumer-grade electronics. "Most of what we refurbish are computers that come from our corporate and organizational clients like nonprofits and schools," Herst said.
Triangle Ecycling collects material from local businesses with 16-foot box trucks. It also partners with a logistics company, allowing it to accept donations of computer equipment from across the U.S. Individual consumers can drop off used electronics at Triangle Ecycling's facility or at number of local partner sites.
When computers come in the door, Triangle Ecycling wipes their drives to NIST 800-88 standards or, if they're too small for reuse, drills them with a drill press, Herst said.
Equipment destined for recycling is manually dismantled, and every 10 days or so, an 18-wheeler picks up 12 to 20 pallets of the sorted e-scrap, Herst said. The material goes to Blue Sky Solutions, an e-scrap processor with locations in Raleigh, N.C.; Charlotte, N.C.; and West Palm Beach, Fla.
Computers are refurbished based on the type of processors they're running. If they have i5 or i7 processors (those are Intel categories of processor families), Triangle Ecycling will refurbish the device. That involves testing and, if necessary, replacing components. That does not include re-soldering motherboards or replacing most laptop screens.
"If you look at the time that it takes and the value that you would capture from it, it's usually just not worth it," he said.
That being said, Triangle Ecycling also has a devoted customer base of gamers and others looking for retro equipment. Employees also love the nostalgia of the old devices
"Everyday is like Christmas around here, because if you love computers and love opening them up and seeing what's inside of them or you've got memories of when you were back in 1999 when you were a kid and you opened up your first computer or had your first computer game – when something like that comes in, it brings back a lot of memories," Herst said.
Most of Triangle Ecycling's revenue comes from used computer sales, and a smaller percentage comes from recovered commodity sales, Herst said. The group charges fees for taking CRTs and printers, as well as for some corporate pick-ups, depending on the distances and labor involved and the estimated value of the equipment being collected.
"We don't take any money from grants or gifts," Herst said. "One of my goals is for us to be a fully sustainable business, and we are and always have been."
Expanding community support
Herst's initial goal in founding Triangle Ecycling was to keep electronics out of landfills and to create some jobs. Over time, he found other ways to give to the community, including through education.
Triangle Ecycling runs an internship program in which local high school juniors and seniors come in two or three times per week after school to learn about computers. "It gives them a great first job experience," Herst said.
Triangle Ecycling also teaches a digital literacy program at schools, libraries and senior homes and retirement communities.
The nonprofit enterprise also helps lower income people obtain quality computers. This is done through a number of strategies. In terms of equipment donations, Triangle Ecycling sets up computer labs for other nonprofit groups, for use either by their staff members or clients. It also gives computers to youths who graduate from local nonprofit programs such as the Durham Literacy Center and the Boys and Girls Club.
In addition, Triangle Ecycling sells computers for well below their market value so low-income people can afford them. The group may sell a computer that could move on eBay at $400-$600 for $50-$200 locally, Herst noted. "I consider that a way of bridging the digital divide by helping the lower socio-economic level of our community have access to some of the best technology," he said.
The organization also donates 10% of profits to the Durham Public Schools Foundation, which provides grants to students, teachers and families.
Staff members also take pride in the good the company does in the community. That fact helps to reduce turnover. Additionally, the organization doesn't need an advertising budget to get exposure.
"I feel like when you have a good mission like this, a lot of people want to hop on the bandwagon and be part of it," he said. "Through that spreading of awareness, we get good marketing."
Q&A: The big role of 'little fish'
The head of a nonprofit ITAD operation in a sparsely populated part of the country explains why smaller firms are a critical cog in the material collection ecosystem.
Nonprofit ITAD operations represent a growing portion of the reuse and refurbishment industry sector. And small-scale companies in general are important partners for the regional and national service providers they feed.
That's according to Chris Martin, who runs Information Technology Exchange, a nonprofit ITAD firm operating in Searsport, Maine (population 2,600). The organization was founded in 2002 and has grown significantly since then, moving into a much larger building last year.
The organization provides collection service around Maine for both businesses and consumers. And one of the key programs offered by Information Technology Exchange is "PCs for Maine," which connects refurbished devices with people and organizations in need.
In the time since Martin launched Information Technology Exchange and PCs for Maine 17 years ago, the group's efforts have been all about what Martin describes as "digital inclusion."
E-Scrap News recently chatted with Martin to learn more about his operation and the role of smaller processors in electronics management today.
E-Scrap News: Explain the concept of digital inclusion.
Chris Martin: There's a huge international movement to catch people up who don't have internet access, or are underskilled or undereducated or have disabilities – there's a spectrum of disadvantages that keep people from having full access to technology. A quick example: low-income kids trying to do homework on a cell phone. Or people in rural America who can't get high speed internet at their house.
AFTRR (the Association For Technology Recyclers and Refurbishers) is a consortium of other nonprofits like PCs for Maine around North America. We're doing work around the world as a group. We were all doing our own thing and weren't super aware of each other until this consortium got put together. We'd all been doing our own emerging movement … of philanthropic ITAD.
We do asset recovery but we're not doing revenue return. We're reducing recycling costs and trying to help people reuse technology and drive diversion from waste.
How does your geography impact your business operation?
Out of all these AFTRR members, people that are a little bit like us but elsewhere in North America, the most successful ones are in metropolitan areas. Maine is the seventh-largest state by area, so probably one of the most sparse states, not the best place to set something up that needs to harvest reusable computer equipment.
But we're definitely in a place with a high need for teaching people how to access technology. It's not a normal natural resource in Maine, not available everywhere.
We do community collection and B2B. B2B is where our reuse comes from, community is just a convenience to clean up the neighborhood, so to speak. We're already licensed, so why not allow households to bring their TVs in? It's hardly a monetary driver or even a mission driver for us, other than just kind of a cool community resource for people.
Where is the nonprofit e-scrap and ITAD sector in its development?
This industry is emerging. It's not mature yet, the nonprofit segment, but it's only about 10 years younger than the commercial for-profit segment of our industry. So in another five years, we're all going to be pretty mature, and we will be, if not mainstream, certainly represent 15% of your readership.
At either rate, it's still a business, but instead of profit it's pouring its returns back out into the community. If you get people to see past that, there's a lot to talk about, because the issues that nonprofits have are exactly the same [as other businesses]. For real compliant recycling, there's a cost somewhere. Either the environment is going to pay for it, the generator of the material is going to pay for it … or the nonprofit is just going to take it on the chin and eventually die and wither up.
What's weird is nonprofits tend to be very transparent with each other whereas for-profits always seem to be holding something back, and it's obviously propriety.
What challenges do small operations such as yours face in the industry today?
We used to, at least as small recyclers, be able to make a living by manually disassembling electronics for their component parts. One computer, eight years ago, was worth about $8 or $9 before labor to take it apart. Well now it's worth about $4, and wages have doubled.
So what you see happening is … little recyclers are going away – even if they're in ITAD, unless they're good at it.
What's going to happen? The big recyclers that have the automation and stuff find themselves lacking supply because all of the 10 little recyclers, 20 little recyclers that used to feed them all of their supply, it's down to seven or five. And nobody's picking up the difference, or if they are, it's the remaining five that are picking up the difference. But taking a lot of those extra expenses on the chin drove the last guy out. They get greedy for market, and they realize they're paying five cents to get four back, because the market itself isn't changing.
Can you talk more about the interdependence that exists between small and large companies in the industry?
Big companies wouldn't exist if it wasn't for us little feeders. They're not designed to have little trucks out on the road going into every nook and cranny of, for instance, downtown Portland, Maine to bring stuff back into their plant. They're not set up for it. Their model is minimum 10,000-16,000 pound loads in, by the pallet, already sorted and organized by the little guy, to then put it through their automated process.
We prep all their materials for them. It comes to them on the truck, and half the time we're paying for the freight for that truck.
The second they're faced with having to collect all those little [loads], consolidate and sort that material to get it ready for their system, it's going to kill them. It's going to break them.
The big fish need the little fish. The little fish are feedstock for the big fish. The ecosystem breaks when you have nothing but a big national fish swimming around.
Taking Action to Make a Difference
Across the country, companies and organizations of various types have recently made moves to help underserved populations connect with technology and find employment in electronics recovery.
Expansion for a nonprofit processor A new program to give people with disabilities jobs in e-scrap. A variety of efforts focused on digital equity.
All those developments took place over the last several months, and they show the power that the electronics recovery sector has to help push real progress on important social issues. Below is a rundown of who's done what of late.
Nonprofit ITAD provider expands processing capabilities
PCs for People, a nonprofit group that performs ITAD services for businesses and provides refurbished computers to low-income people, is growing its processing footprint in three cities.
The St. Paul, Minn.-based organization provides ITAD services for about 1,000 businesses, processing the used electronics in R2- and NAID-certified facilities in Denver and St. Paul. With an eye toward bridging the digital divide, the group provides used computers, low-cost internet access, computer training, tech support and repair services to low-income residents.
Casey Sorensen, CEO of PCs for People, spoke with E-Scrap News about the group's completed, planned and potential processing growth in the following cities:
St. Paul: In April 2019, PCs for People purchased a new 31,000-square-foot space, which recently began operating. The facility, which replaced a 7,000-square-foot processing space, will refurbish an average of about 100 computers a day. Up to 1 million pounds a year of end-of-life electronics will be recycled there, according to the group.
Denver: PCs for People is in the process of leasing a 21,000-square-foot space to replace the existing 7,500-square-foot one, Sorensen said. The new Denver processing facility should be up and running in March or April 2020.
Cleveland: The group plans to launch a 17,000-square-foot processing facility in the next couple of months, Sorensen said. The space is located next to PCs for People's retail store, which opened a year ago. PCs for People will pursue R2 and NAID certifications for the Cleveland site, Sorensen said, putting it in line with its Denver and St. Paul facilities.
In addition, Sorensen said PCs for People is exploring opening a location in Baltimore. A partner there has offered to fund part of the expansion, and PCs for People is looking for money to cover the rest of the cost. While that facility is still only a possibility, if all goes well, PCs for People could have a facility up and running in Baltimore by June 2020, Sorensen said.
Across its two existing processing facilities, PCs for People currently handles over 2 million pounds a year (1.5 million pounds in St. Paul and 540,000 pounds in Denver).
In terms of number of units, the organization now handles about 3,500 computers a month, most of which go into the refurbishment pipeline. Since its founding in 1998, the organization has distributed nearly 100,000 computers to people in all 50 states and Puerto Rico.
New program to help processors employ disabled adults
An initiative launched by e-scrap certification e-Stewards will give 10 certified processors the training and support they need to successfully employ a workforce of developmentally disabled adults.
Announced on Sept. 4, the e-Stewards ADVANCE+ program is intended to connect more people with autism and other disabilities with electronics recycling jobs. It also comes at a time when low unemployment rates are making it hard for recycling companies across the country to find and keep reliable employees for entry-level jobs.
"We now have a terrific new opportunity to equip the recycling industry with a superlative and uniquely talented workforce while providing new opportunities for meaningful employment for a largely underserved population," Bob Akers, e-Stewards enterprise director, stated in the press release.
Starting Oct. 1, e-Stewards-certified processors could begin applying to be a part of the workforce development and integration program. Ten will be chosen to receive on-site training, a manual and access to ongoing mentoring. The program is provided by James Emmett & Company, which has developed workforce inclusion programs for Best Buy, Office Depot, PepsiCo and Walgreens.
According to an e-Stewards press release, the program is valued at $30,000 but will cost each selected processor $2,000, because other costs are underwritten by corporation foundation donors.
The ADVANCE+ program is based on the employment model used by Blue Star Recyclers, a nonprofit organization founded to provide e-scrap dismantling jobs for people with disabilities. The organization now has three Colorado facilities – in Boulder, Colorado Springs and Denver – all certified to the e-Stewards standard. It has received corporate grant money to help expand to other cities.
"In our experience, people with autism and other disabilities represent a labor solution for our industry, which has struggled to acquire and retain entry level workers," Bill Morris, CEO of Blue Star Recyclers and a member of the e-Stewards Leadership Council, stated in the release. "For over 10 years, our employees have posted near-perfect occupational metrics for attendance, productivity, retention and safety."
Organizations donate devices to promote digital equity
During Digital Inclusion Week this fall, electronics refurbishment companies took an opportunity to help bridge the digital divide.
Organized by the National Digital Inclusion Alliance, the Oct. 7-11 event seeked to address the problem of low-income households lacking access to computers and high-speed internet service, as well as the knowledge to effectively use the technologies.
During the week, organizations around the country held computer collection and donation drives, put on events to educate and connect households with low-cost broadband service, and convened workshops teaching people how to use computer.
ITAD company Cascade Asset Management sponsored a series of events around Madison, Wis. run by the nonprofit group DANEnet. In addition to a breakfast featuring the executive director of the National Digital Inclusion Alliance, the Madison-area events included coding workshops, free computer repair clinics and more.
Meanwhile, at an event in New Hampshire, the National Cristina Foundation promoted the week by holding a device donation drive via social media.
"Each day we will tell stories of organizations across the country that use refurbished devices to help improve the lives of those in their communities, and urge people to donate used tech through the National Cristina Foundation website during Digital Inclusion Week," according to the group.
Elsewhere, the group ROANEnet held a drive to collect used computers and peripherals throughout Roane County, Tenn.
"These devices will be refurbished and given to those in need," according to the nonprofit group, which focuses on bolstering high-speed internet access throughout the county.