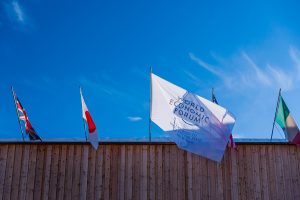 End-of-life electronics received attention at the World Economic Forum meeting this month. A report from several global entities called for a systemic change to stem rising volumes of unrecovered devices.
The report, titled "A New Circular Vision for Electronics: Time for a Global Reboot," was authored by United Nations entities, the Basel Convention, the International Telecommunication Union and other stakeholders.
The World Economic Forum is a nonprofit organization that describes its mission as engaging "the foremost political, business and other leaders of society to shape global, regional and industry agendas." Its annual meeting was held in Davos, Switzerland last week. E-scrap management was one of numerous environmental issues discussed during this year's forum.
The organizations that wrote the report are collectively part of the E-waste Coalition, a U.N.-led group formed last year that seeks to "increase cooperation and more efficiently provide support to member states and parties to address the e-waste challenge," according to the document.
The report paints a largely unflattering view of e-scrap management worldwide, and it focuses on the potential benefits to improving the current system.
"In the short-term, electronic waste remains a largely unused, yet growing, valuable resource," the authors wrote. "Nearly all of it could be recycled. Urban mining, where resources are extracted from complex waste streams, can now be more economically viable than extracting metal ores from the ground."
The report brings wider attention to a handful of topics likely familiar to those in the e-scrap industry. For example, it explains that:
Large portions of e-scrap are legacy products no longer produced. "There is a trail of e-waste generated from old technology that needs to be addressed," the report states.
Consumer education and proper data management are key factors to increasing recycling rates. "The lack of awareness about how to recycle and worries about data security mean there are vast tranches of residual electronics sitting in drawers, garages, bedrooms and offices across the globe waiting to be dealt with," the authors wrote.
The U.S. and Europe contribute almost half of the total global e-scrap generation each year.
End-of-life material often moves from developed countries to developing nations, and undocumented e-scrap shipments that may violate international laws are common. Meanwhile, "shipments of used products for repair, refurbishment or direct reuse are subject to legislative uncertainties."
The information was presented as grounds for a systemic change in how end-of-life electronics are managed. The report urged building a circular economy for electronics and stated such a mechanism can consist of numerous components, including:
Product design that prioritizes durability, repair, reuse and end-of-life recycling.
Return systems that incentivize the consumer financially and guarantee data will be safely managed.
Investment in new recycling technologies to build an advanced "urban mining" system.
Extended producer responsibility legislation to financially back the shift toward a circular management system.
The potential of electronic devices as a service, rather than a product, also received some attention in the write-up. Noting the rise of other service-based models that promote dematerialization – such as Netflix for entertainment, Uber or Lyft for transportation and Airbnb for short-term rentals – the report points to similar services for electronics and and suggests that model could grow in the future. Current services in that sector include Dell's "PC as a Service" program in the U.S. and Fairphone's leasing system in the Netherlands.
In conjunction with the report's release, U.N. Environment, the Global Environment Facility and the Nigerian government announced a $2 million investment "to kick off the formal e-waste recycling industry in Nigeria." The initiative hopes to leverage an additional $13 million from the private sector.
Photo credit: Rumir/Shutterstock
More stories about research