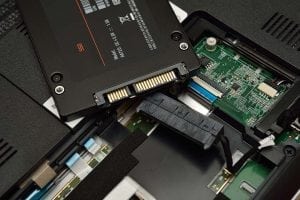 Solid state device data erasure is slated be added to the National Association for Information Destruction (NAID) certification standard.
Electronics recycling and ITAD operations for years have been asking for solid state device (SSD) data destruction to be included within the scope of NAID certification, according to a recent announcement from the group. Technical challenges have prevented the move in the past.
"Unlike the overwriting of conventional hard drives, effective forensic analysis techniques for the wide array of SSD applications are not as simple or standard," said Bob Johnson, head of NAID. "Logistically, we have to be able to evaluate SSD erasure for everything from smartphones to enterprise-level servers."
But now, NAID is gearing up to create an endorsement for SSD data destruction that certified companies can request. The SSD endorsement will require participating companies to show that their processes are effective in real time.
The certification is overseen by NAID parent organization International Secure Information Governance & Management Association (i-SIGMA). The i-SIGMA board of directors will vote on the addition on Sept. 12.
NAID recently merged with Professional Records and Information Services Management (PRISM) to create i-SIGMA.
Photo credit: JIPEN/Shutterstock

More stories about data security