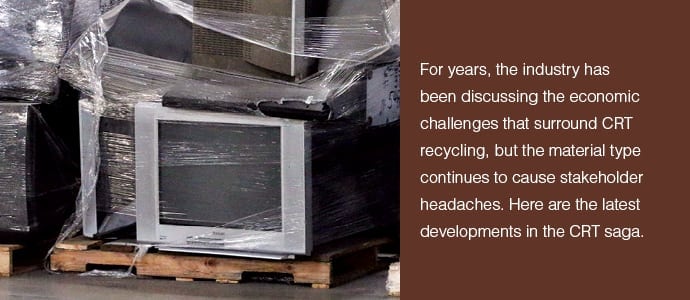 This article originally appeared in the March 2018 issue of E-Scrap News. Subscribe today for access to all print content.
If you're reading this magazine, you know the CRT story. As technology for computer monitors and TVs transformed over the last two decades, the older lead-laden devices that entered the waste stream had limited appeal for end users and could no longer be easily moved through the market in a profitable way.
Startups have tried to leverage technology to create more end outlets, state programs have shifted their payment structures to try to cover processing costs, and e-scrap firms have retooled their business plans to avoid handling the material. But still the CRT problem looms large, spurring lawsuits, bankruptcies and frustration for all types of groups and businesses.
Below is a look at four important CRT developments that have unfolded in recent months. They help highlight the way in which an old problem continues to spur new challenges for the sector.
Failed businesses benefited from Creative's demise
Property owners spent millions of dollars cleaning up CRT storage sites left behind by shuttered East Coast processor Creative Recycling Systems. But E-Scrap News confirmed in February much of the glass went to companies that ultimately failed and abandoned stockpiles of their own.
After Florida-based Creative Recycling Systems filed for bankruptcy in September 2014, landlords in six different states – Florida, Illinois, Kentucky, Maryland, North Carolina and South Carolina – worked closely with state officials to remove 32 million pounds of legacy material.
The earliest cleanup was conducted in Maryland in December 2014 and the last cleanup was completed in September 2016 in South Carolina.
State records indicate most of the material was sent to a handful of downstream processors: Ohio-based Closed Loop Refining and Recovery, Kentucky-based Global Environmental Services (GES) and Illinois-based Kuusakoski Recycling.
Closed Loop and GES received more than half of Creative's stockpile and have since closed, leaving behind millions of pounds of their own CRT glass. Both firms have been the subject of lawsuits and regulatory action. Kuusakoski continues to operate its CRT operation.
GES was the primary destination of glass from Creative cleanups, receiving a total of 13 million pounds of material from four abandoned properties in Maryland and North Carolina.
By December 2014, 7.8 million pounds of material had been removed from Creative's former Elkridge, Md. processing site and sent to GES in Kentucky, said Jay Apperson, a spokesman for the Maryland Department of Environment.
The case was closed after state officials determined Creative had not been storing any material elsewhere in the state.
In February and March of 2015, GES received more material tied to Creative's closure, taking in a total of 5.2 million pounds from three different sites in North Carolina, said Laura Leonard, spokeswoman for the North Carolina Department of Environmental Quality (NC DEQ).
Several months later, GES admitted it buried CRT glass near its site in Georgetown, Ky. GES' owner, Kenny Gravitt, is currently facing federal criminal charges related to alleged mismanagement of hazardous waste.
According to Jon Maybrier, director of the Division of Waste Management for the Kentucky Department of Environmental Protection, CRT material remains in storage at at least two GES sites in the state. It is not known if any of that material came from Creative.
While the GES Georgetown, Ky. site has been largely cleaned out, a facility in Cynthiana, Ky. has an estimated 1.8 million pounds of CRT material in gaylords, Maybrier said. A third site, in Winchester, Ky., also contains some unprocessed material, including whole CRT units. "We haven't really gone in there and given a total assessment," Maybrier said.
Meanwhile, Closed Loop Refining and Recovery, another failed CRT glass venture, received 3.5 million pounds of CRT glass in March 2015 from one of Creative's three North Carolina sites, said Leonard of NC DEQ. In June 2015, Closed Loop also received some material from a smaller Creative location in Louisville, Ky., records show.
Closed Loop closed in 2016 and left behind more than 200 million pounds of CRT glass in Arizona and Ohio. The company has faced legal issues as a result of its abandonment of material. It lost an $18 million lawsuit in Ohio and has been sued by an insurance company in Arizona, court records show.
The company is also currently facing a federal lawsuit from its former Ohio landlord.
Most of the rest of the material from Creative's locations made its way to Kuusakoski. That firm received 8.3 million pounds from two Creative sites in Florida and another in Illinois, officials from those two states confirmed.
Kuusakoski, which operates a CRT glass storage business with partner Peoria Disposal Company in Illinois and also sends material further downstream to smelters, received some material from Creative's Kentucky operation as well. That Kentucky location also sent a small amount of material to Illinois-based Com2 Recycling Solutions, state records indicate. Com2 has recently pushed forward on plans to use recovered CRT material to produce a glaze for tile products.
Finally, officials in South Carolina confirmed that 6.7 million pounds of material had been removed from Creative's former site in Blythewood, S.C. The state said it was not aware of where the property owner sent the material downstream.
With demand dwindling, questions swirl around Videocon
India-based electronics manufacturer Videocon has long served as a major outlet for recovered CRT glass. But in late January the company confirmed with E-Scrap News it is taking in only "limited" tonnages through its closest North American partner, and former suppliers contend that Videocon has ceased production of new CRT devices altogether.
Videocon has typically received much of its material from the U.S. through a company called Technologies Displays Mexicana (TDM), which has worked alongside partners Cali Resources and Glassico.
Separating and cleaning the material at its plant in Mexicali, Mexico, TDM has shipped hundreds of millions of pounds of glass directly to Videocon, which has processed the material at a site in Bharuch, India to manufacture new CRTs. Videocon representatives have said that CRTs continued to see modest demand in India and other developing markets.
In an email to E-Scrap News, Videocon's Albino Bessa acknowledged that tonnages shipped from TDM to Videocon are currently "limited." He would not say whether the firm is receiving material from any other North American company.
Bessa also would not elaborate on the specifics of the company's CRT demand or its handling of material. Industry members who have worked with Videocon in the past, however, say the company is reducing its consumption because its glass-to-glass operation is no longer running.
URT, a Wisconsin-based e-scrap processor that formerly worked with brokers to route material to Videocon, stopped doing so in early 2015, according to a company executive.
Jeff Gloyd, vice president of marketing and sales at URT, told E-Scrap News there were "maintenance issues [and] significant downtimes" at the plant in Bharuch even before the operation had to go off-line in 2015. Those issues corresponded with a move away from CRT manufacturing, Gloyd noted.
"They were no longer turning the glass into a new CRT tube and they didn't need the volume they previously needed," Gloyd said.
TT Srinivasan, the owner of New York-based brokerage firm Samca International, told E-Scrap News his company stopped working with Videocon for the same reasons.
He noted Videocon is now "working on a new project … so they can use the CRT glass." He declined to provide additional details on the initiative or current glass capacity of Videocon.
ERI, one of the largest e-scrap processors in the U.S., has also stopped supplying Videocon. Aaron Blum, ERI's chief operating officer and chief compliance officer, said his company hasn't sent material to the Indian firm for almost two years due to a lack of demand.
Videocon's website no longer lists CRTs in its lineup of TVs.
While in the past Videocon and its North American partners have openly discussed its glass-to-glass operation, Videocon's Bessa would not disclose how the company is currently handling any CRT material it may be receiving.
"All processing info is confidential," he noted in his email to E-Scrap News.
Videocon has been the subject of uncertainty for some time. In October 2015, E-Scrap News reported on Videocon shutting down its CRT processing furnaces due to a variety of maintenance issues. After reopening for a brief period of time in 2016, the operation faced another shutdown in August 2016.
State attorney general sues CRT outlet over stockpiles
In January state officials in Iowa announced they are suing an electronics recycling operation accused of stockpiling and improperly managing millions of pounds of CRTs.
The Iowa Attorney General's Office filed suit against Recycletronics, a Sioux City, Iowa-area e-scrap company that closed last year. The state seeks civil penalties and financial payments, claiming Recycletronics had stockpiled nearly 17 million pounds of CRTs and other electronics since 2013.
The business "collected waste disposal fees and then illegally stored or disposed of millions of pounds of electronic components, including hazardous waste," the attorney general said in a Jan. 8 news release.
Iowa officials say Recycletronics falsely claimed it was in compliance with speculative accumulation regulations. Under the federal government's CRT Rule, 75 percent of CRT material acquired by an entity must be recycled or transferred to a different site for recycling during the calendar year.
In at least one unpermitted storage site, Recycletronics delivered boxes of glass that were later dumped out and burned, the lawsuit alleges. Any metal content was removed and the remnants were dumped on the ground. The U.S. EPA, which has been monitoring the company's sites in recent years, estimates that nearly 1.2 million pounds of leaded glass is mixed in with the soil at that unpermitted location.
At another site, nearly 3.4 million pounds of crushed leaded glass were stored on a concrete pad, and nearby soil and water tests showed the presence of lead.
Recycletronics, which closed its doors in mid-2017, used Closed Loop Refining and Recovery and Technologies Displays Americas as its downstream outlets, according to the U.S. EPA. Closed Loop collapsed in 2016 after amassing the largest known U.S. CRT stockpile in history.
According to the court documents, Recycletronics is connected to two permitted facilities and six unpermitted sites. Several of the unpermitted storage locations date back to 2013. State officials with the Department of Natural Resources (DNR) and inspectors with the U.S. EPA showed up unannounced at several of these facilities in December 2016 for inspections, during which they observed the alleged violations.
Today, an estimated 12.4 million pounds are at a former company site in Sioux City, Iowa and 4.5 million pounds are at a location in South Sioux City, Neb., according to the lawsuit. The court filing does not indicate the CRT percentage of those figures. The state estimates cleanup costs will total a minimum of $1.5 million.
Nulife closing down and giving up on US business
Last September E-Scrap News learned Nulife Glass, a company that built its own furnace to recycle CRT glass in the U.S., was shuttering.
The firm, led by Simon Greer, struggled to clear regulatory hurdles related to its accumulation of CRT material in New York, Pennsylvania and Virginia. Greer told E-Scrap News the company, which was originally founded in England, was nearing completion of a multi-million-dollar cleanup effort in Pennsylvania and would be focusing on cleaning out its Bristol, Va. and Dunkirk, N.Y. sites.
"I have no intention of keeping my business in America," Greer said.
Started in 2013, Nulife was headquartered in Dunkirk. Its CRT glass furnace went live in 2016 and was capable of processing up to 10 tons of CRT glass per day, separating out both lead and glass to be sold into commodity markets.
Despite regulatory issues dating back to its founding, Nulife emerged as a significant downstream outlet for U.S. CRT glass. It maintained several warehouses in Pennsylvania.
According to Greer, the undoing of the company ultimately came in March, when the Pennsylvania Department of Environmental Protection (PA DEP) ordered the company to remove more than 17 million pounds of glass in storage by February 2018.
"The straw that broke the camel's back was Pennsylvania's order to landfill the glass," Greer said. "It was our feedstock, it was our future, it was our profits."
Nulife suspended its operations in June 2017. Greer said Nulife was attempting to safely manage its remaining material as it winds down its business.
"We're not running away. We've hit a crash point and we're doing the best we can," Greer said. "People have buried stuff in the ground, people have run away – our business has failed, but we're trying to make sure the places where we've operated are not affected."
Bobby Elliott is editor at large for E-Scrap News and can be contacted at [email protected]. Colin Staub is the publication's staff writer and can be contacted at [email protected].