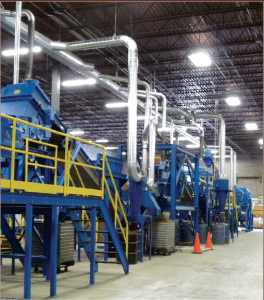 With its integration of upstream shredding and separation systems and downstream refining processes, Colt Refining and Recycling is oriented toward maximizing e-scrap metals recovery.
That could leave the operation vulnerable to an evolving end-of-life stream with less metal and falling commodities prices. However, Colt has displayed the ability to weather the storm, partly by leaning on the expertise of its on-staff engineers.
"We are fortunate to have several management team members with engineering degrees (chemical, mechanical, industrial and electrical)," said John Cianciarulo, general manager of Colt Recycling. "This gives us a competitive advantage in the marketplace in our ability to design, modify and operate complex processing lines to optimize the value recovered from scrap.
"Our processes are proprietary," Cianciarulo continued. "We have made significant updates and improvements to our processes over the past several years as metal prices have fallen, and metal concentrations in scrap have been trending lower. These improvements have been critical to our continued success."
Colt has three locations in two states: Colt Refining and Colt Recycling, both in New Hampshire, and Colt Recycling Southeast, located in North Carolina. Across all three sites, the company utilizes a total of 235,000 square feet of space.
The company started in the refining business, with the 1977 founding of Colt Refining in Connecticut. It moved up to the Granite State in 1999. Colt describes the current site as the largest fully permitted precious metals refining facility on the East Coast.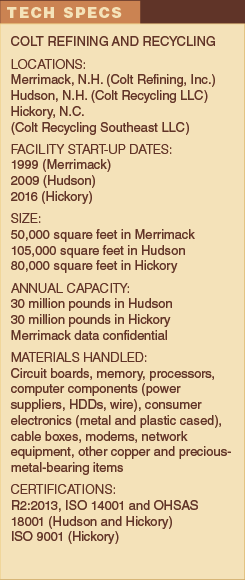 Colt Recycling is a newer venture, launching in Lowell, Mass. in 1993 as Electronics Processing Associates. The business moved to Hudson, N.H. in 2009. The two New Hampshire locations sit nine miles apart.
The latest addition is the North Carolina location. In 2016, Colt purchased the Hickory assets of bankrupt e-scrap company Zloop, including the facility and processing equipment.
Colt's recycling and refining operations work hand in hand to take material from intact devices to readily refinable precious metals and mill-ready base metals.
As far as technologies are concerned, Colt Recycling utilizes a custom-designed shredding, mechanical separation and destruction system, in addition to a manual disassembly line. It also has a repair and reuse operation, and it offers data destruction services.
Colt Refining utilizes a variety of processing lines, including thermal oxidizing systems, induction melting equipment, milling/blending/sampling process equipment and chemical processing lines. The company evaluates each type of material and introduces it into the process that will yield the highest value, Cianciarulo said.
"We utilize our assay lab and management experience to determine the most appropriate processing approach for each scrap material," he said.
In addition to recovering metals from scrap generated through its recycling division, Colt also purchases precious-metals-bearing streams from collectors and recycling companies nationwide. It will either refine materials and pay for scrap based on the actual assay and metal content, or it will purchase scrap outright.
This article originally appeared in the September 2017 issue of E-Scrap News. Subscribe today for access to all print content.