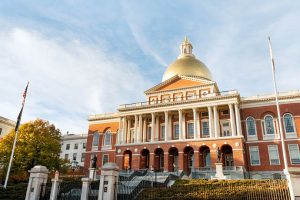 Draft legislation would make Massachusetts the 26th state with a regulated e-scrap program.
The legislation, S. 421 and H. 2148, makes OEMs financially responsible for collection and recycling of designated electronics. The bill includes a wider variety of consumer electronics than many other state programs, covering not just TVs and computers but also printers, video game consoles, fax machines and more.
Under the provisions of the bill, producers can either compensate collectors for the material that's delivered to processors, or they can form their own individual or collective producer collection programs. If they choose to form an independent collection program, it must meet certain requirements, such as collecting at least 100,000 pounds of electronics per year, or otherwise providing collection sites in municipalities of a certain population.
The bill does not allow producers to charge a fee for collecting, transporting or recycling products. It also waives a registration fee for collectors who "send units primarily to reuse rather than recycling."
"The bill aims to vastly reduce the amount of hazardous chemicals leaching into landfills from e-waste disposal by increasing public accessibility of e-waste recycling while also taking the financial burden of collecting and recycling e-waste products off of municipalities, and placing it instead on the manufacturers," according to a summary by Democratic Sen. Jamie Eldridge, the bill's Senate sponsor.
The legislation was favorably reported out of the Senate Environment, Natural Resources and Agriculture Committee on Nov. 16 and referred to the Ways and Means Committee. MassRecycle, the state recycling organization, estimates the legislation has a "low" potential to pass as it currently stands.
More stories about EPR/stewardship