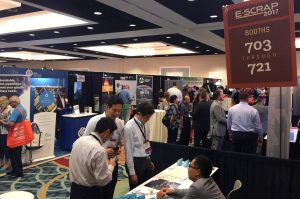 For the e-scrap industry, business as usual may not cut it in the future. To help, this week's E-Scrap Conference is providing information and connections that allow processors and others to stay on top of changes in the fast-evolving sector.
E-Scrap 2017, which kicked off yesterday in Orlando, Fla. with a series of workshops and other events, will open today with discussions focused on new trends and, for some processors, a new area of profitability: reuse, repair and resale.
Inside the Omni Orlando Resort at ChampionsGate, site of the 15th annual conference, professionals from around North America and the world are tackling some of the toughest questions in electronics recycling.
This year's conference has drawn roughly 1,200 attendees, representing almost every U.S. state and 33 countries. The trade show hall features around 125 companies and groups.
Many of those gathered in Orlando can likely relate to the parable that says you can't step twice into the same river because it's ever flowing. The e-scrap stream and it's constant need for adaptation operates the same way.
This theme flows through many of the conference's plenary and concurrent sessions. There, experts will explore the lightweighting and introduction of new types of devices, changing metals composition of printed circuit boards (PCBs), the rise of flat-panel displays, growth in the use of rechargeable batteries and ways equipment technologies can help processors stay on top of changing consumer technologies, among other topics.
The environment surrounding e-scrap is shifting too. Data security is now a critical issue, changes in legislation and import/export regulations are ongoing, a number of downstream options for CRTs have dried up, and governments and corporations continue to embrace circular economy approaches.
Experts from numerous processors, OEMs, associations, equipment companies, consulting firms and government agencies will touch on these topics over the next two days.
E-Scrap 2018 will be held Oct. 9-11 at the Hyatt Regency New Orleans.