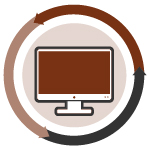 Cracked mobile device screens may be able to fix themselves in the future, and two groups will hold a workshop discussing violations of extended producer responsibility laws by online e-commerce sites.
Futuristic materials: Self-healing materials could be incorporated into electronics in the future, according to an article from The Guardian newspaper. The article notes Motorola has filed a patent for a self-healing mobile phone screen made from a polymer that would at least partially reverse its damage when exposed to heat.
Phone forecast: Worldwide smartphone shipments are expected to maintain growth through 2021, according to a forecast from the International Data Corporation (IDC). The Framingham, Mass.-based firm expects shipments of new phones to grow from 1.47 billion in 2016 to over 1.7 billion in 2021.
Washington collections: During the January-August period, Washington state's extended producer responsibility program collected 81.9 percent of the weight of TVs, computers and monitors it collected during the 2016 period, according to the Washington Department of Ecology. The continuing decreases are a reflection of the lighter composition of the end-of-life stream.
EPR compliance: Two European trade associations will hold a workshop to address the issue of online retail platforms failing to comply with extended producer responsibility laws for electronics in the European Union. WEEE Forum and EucoLight, which represent producer responsibility organizations, will hold the event on Sept. 13 in Brussels.