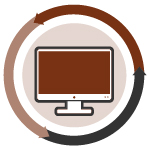 Mac fans complain that Apple receives unfair scrutiny, and the global e-scrap market is positioned to rise during the next decade.
Repair risk: Third-party replacement components pose threats to data security, according to a new report. The International Business Times writes about the study from Ben Gurion University, describing how replacement displays, card readers, wireless charging components and other parts sourced from third-party manufacturers can be used to hack into a device.
Future forecast: The global e-scrap market will reach 79 million tons by 2026, according to projections by Transparency Market Research. That means the market will grow by a compound annual growth rate of 5.6 percent during the next decade. The printed circuit board market, which was valued at 1.46 million tons last year, is predicted to reach 3.14 million tons by 2026, according to the report. Meanwhile, the PC market is expected to continue its decline for another four years, according to a forecast by the International Data Corporation, falling from 435.1 million units in 2016 to 398.3 million in 2021.
ITAD acquisition: Syracuse, N.Y.-based CXtec, which provides IT asset disposition and other services related to electronics, has purchased device reseller Atlantix Global. The addition of the Atlanta-headquartered company will strengthen CXtec's position in used device markets, according to a press release.
Mac defense: Apple receives an unfair amount of negative coverage over its environmental record, according to a write-up at Macworld. The opinion piece authored by "The Macalope" acknowledges Apple isn't perfect, but points out some of the company's large achievements and claims other companies are given a pass.