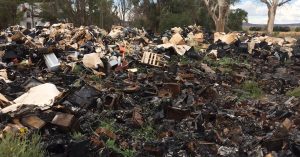 A former Utah-based CRT processor has been indicted on several counts related to its abandonment of more than 3.5 million pounds of crushed leaded glass three years ago.
Named as defendants in the federal grand jury indictment are Stone Castle Recycling, CEO Anthony L. Stoddard and employee Jamen D. Wood. The document was filed on July 12 in the U.S. District Court in the District of Utah, Northern Division.
The document claims the company and Stoddard knowingly stored and disposed of leaded CRT glass without a permit at the company's Clearfield, Utah warehouse. It alleges Wood and the company falsely labeled the glass as "non-hazardous" when sending it to a landfill, allowing the company to avoid paying the higher hazardous waste disposal rate.
The company had glass stored at two other sites, but the federal charges relate only to the facility in Clearfield, which is 30 miles north of Salt Lake City. The charges were first reported by the Salt Lake Tribune.
E-Scrap News' phone and email attempts to reach Stoddard were unsuccessful. Attorneys for Stone Castle, Stoddard and Wood have not yet filed a response to the charges.
Nearly five years ago, Stone Castle Recycling attracted the attention of regulators, who were concerned about improper storage and stockpiling of CRT glass. Despite warnings from regulators about improper outside storage of gaylords filled with CRT glass, the company continued to receive materials and store them, according to the indictment. The company did not obtain a hazardous waste storage permit.
Stone Castle was evicted from its warehouse in 2014. It vacated the space and left "hundreds of boxes of CRT glass both inside and outside the facility," according to the court document.
The materials later erupted in several fires. A chronology from the Utah Department of Environmental Quality shows photos and video of the warehouse site following a fire. Since then, the roughly 3.5 million pounds of CRT glass has remained on site.
Prior to the abandonment, Stone Castle tried to send the material to two landfills but was informed they could not take CRT glass in accordance with state and federal regulations. Then, Stone Castle approached a hazardous waste landfill for disposal, but falsely claimed in disposal paperwork that the CRT glass was considered "non-hazardous," according to the indictment. The company sent more than 220,000 pounds of CRT glass in three shipments for disposal as non-hazardous waste, paying less than they would have paid had the material been properly labeled, federal prosecutors allege. State regulators learned about the disposal and halted a fourth shipment.
Stone Castle has drawn attention from the Basel Action Network as a high-profile CRT abandonment case.
More stories about courts/lawsuits