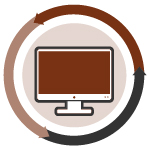 California's hike in the fee to fund electronics recycling is explained, and a repair advocacy group accuses OEMs of deflecting pressure to improve repairability.
Fee breakdown: California's advanced disposal fee (ADF), which is levied at the point of sale to fund end-of-life management, was raised recently by about $2 per device. In an op-ed for the Ventura County Star, David Goldstein of the county's public works agency describes the rationale behind the fee and its increase, and writes that public sector involvement is "essential" in the e-scrap recycling sector.
Data protection decision: A federal appeals court ruling making it easier to sue companies for data breaches will usher in "a paradigm shift in data privacy in both the digital and physical realm," John Shegerian, founder and executive chairman of ERI, stated in a press release. In the case, Attias v. CareFirst, the appeals court said theft of information creates a risk of identify theft, which is grounds to sue, even if the plaintiffs who had their information stolen can't point to any resulting incidents of harm or misuse.
Preventing repair?: A report from Repair.org says electronics manufacturers have used their influence to water down voluntary standards for environmentally friendly electronics, theverge.com reports. Mark Schaffer, author of the report "Electronics Standards are in Need of Repair, said the result has been a stifling of design changes to improve life longevity.
A very good price: Orange County, N.Y. is expanding the list of electronics it accepts for free at a drop-off recycling center. The Mid-Hudson News writes the center will accept a wide range of devices, including computers, monitors, printers and scanners, for free, while TVs will continue to cost $5 to drop off.
Imports crackdown: Lawmakers in the Philippines may consider a ban on e-scrap imports, as concerns grow about the Pearl of the Orient Seas turning into a dumpsite for scrap electronics from developed economies. The Manila Standard newspaper reports the proposed legislation also seeks to build up domestic collection and processing infrastructure.