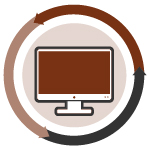 A Pennsylvania county gets its first collection center years after the state's electronics landfill ban was enacted, and Washington state reports lower collection weights than a year ago.
No outlet: End-of-life electronics are mounting up in Pittsburgh-area thrift stores, after a fire shut down a local recycling center accepting e-scrap. The Tribune-Review writes that the Westmoreland Cleanways recycling center was the only nearby site to get rid of electronics for free, and given Pennsylvania's landfill ban, residents have been dropping off broken TVs and other devices at local thrift stores that don't want them.
Milestone: Meanwhile, in brighter Pennsylvania news, a collection center has opened in a rural Pennsylvania county, the first collection center Cumberland County has had since the state's landfill ban was enacted in 2013. The Sentinel reports the jurisdiction has been left behind because manufacturers have relied largely on cities to hit their collection responsibilities, leaving some rural areas without funded collection opportunities.
Weight loss: The E-Cycle Washington program continues to demonstrate the lighter weight of electronics entering the recycling stream. According to its most recent report, the program collected 15.12 million pounds of TVs, computers and monitors for recycling during the January-June period, which is 80.8 percent of the weight collected during the same period last year.
Facility feature: New York City's Lower East Side Ecology Center collects one million pounds of e-scrap each year, recycles about 95 percent of it and sends the rest for reuse. In a profile story, Al Jazeera explains that the collection center aims to raise awareness of electronics recycling while also promoting waste reduction.
Continuing service: Electronics recycling was set to end for the summer in Fairbanks, Alaska, but is back on after several groups worked to keep a collection center active. The Fairbanks Daily News-Miner reports a government-operated collection center is set to open in the fall, but the city's current contract with a private company offering e-scrap drop-off expired in June. The government will pay some of the site's costs so it can stay open and avoid a lapse.