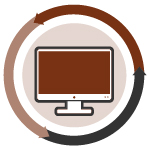 An Amazon personal assistant device is graded on its repairability, and a refurbished version of Samsung's notorious overheating phone returns to the market in South Korea.
Rising from the ashes: Samsung is selling refurbished versions of the notorious Galaxy Note 7 in South Korea, and they're priced about 30 percent less than the original Note 7 sold for, according to CNN. The device is called Galaxy Note FE, which stands for "fan edition," an attempt to differentiate it from the earlier devices, some of which overheated and burst into flames due to battery problems.
Not so easy to fix: Repair advocacy group iFixit has given less-than-stellar marks for the repairability of the Amazon Echo Show, a personal assistant device with a screen. The device scored a 4 out of 10, with 10 being the easiest to repair, and was dinged for the way the screen is attached and the heavy use of adhesive.
Going circular: In an article for PowerSource Online Magazine, Sustainable Electronics Recycling International's Patty Osterberg and photographer Verena Radulovic describe the role e-scrap plays in transitioning to a circular economy. That means ensuring all materials retain their maximum value throughout their life cycles, the authors write, and involves reuse as well as materials recovery. SERI and Radulovic will both be featured at the upcoming E-Scrap 2017 conference in Orlando.