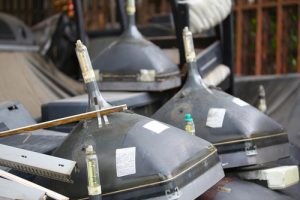 Environmental officials in Minnesota are still attempting to get MPC, once one of the largest electronics recycling companies in the Upper Midwest, to complete the cleanup of its former operation.
According to officials, MPC has yet to clean out 32 semi-trailers containing intact CRTs and LCD monitors. The company closed in 2015 after receiving a $125,000 fine from the state for failing to recycle a large stockpile of crushed CRT glass.
While the crushed glass was moved to a hazardous waste facility shortly before the company's closure, the trailers of CRTs and monitors remain and are now being regulated as a hazardous waste by the state.
An administrative order issued May 24, 2017 by the Minnesota Pollution Control Agency directed MPC and its owner, David Kutoff, to send the contents of the 32 semi-trailers, which were filled between 2008 and 2015, to a hazardous waste facility within 60 days.
"As of June 20, the [agency] has not received any information from the company that shows they have to addressed this issue," Walker Smith, an agency spokesperson, told E-Scrap News. "The agency remains hopeful that the all corrective actions will be completed within the 60-day period."
An unfinished cleanup in Minnesota
The remaining trailers have been on the state's radar since July 2014. At the time, agency officials identified 23 trailers of intact CRTs being stored at one of MPC's locations.
The agency eventually moved to issue a notice of violation in August 2015 after discovering that the number of trailers had grown to 38 trailers.
Since then, the contents have been consolidated into 32 trailers owned by Big Blue Boxes, the company that originally leased the trailers to MPC.
Bill Kirkpatrick, the owner of Big Blue Boxes, told E-Scrap News his company is facing cleanup costs of about $400,000-$500,000 if MPC's Kutoff doesn't act.
"Much to our relief the state is taking an active role in making Kutoff clean up his mess," Kirkpatrick said. "I'm hopeful."
According to Kirkpatrick, the trailers are currently in storage at a Big Blue Boxes location in Forest Lake, Minn. At one time, Big Blue Boxes leased as many as 400 trailers to MPC.
"They filled up all of these trailers just hoping to find a better way to get rid of this stuff – a cheaper way," Kirkpatrick said.
Kutoff, whose full name is Avraham David Kutoff, filed for Chapter 7 bankruptcy in March. He did not respond to a request for comment and neither did his lawyer, Mary Sieling of the Minneapolis-based firm Manty and Associates.
Environmental officials say they have not heard from him since delivering the May 24 order.
"Should MPC fail to meet the 60-day timeline set forth in the order, [agency] enforcement staff will reconvene internally, along with staff from the Minnesota Attorney General office, to determine appropriate next steps to ensure proper management of the hazardous electronic waste contained in the trailers," Walker Smith, the agency spokesperson, said.
More stories about regulation/oversight